Even Brief Exposure to Asbestos May Cause Mesothelioma
A recent report in theInternational Journal of Occupational and Environmental Health describes the case of a 58-year-old man who developed mesothelioma from exposure to asbestos-containing gaskets during a high school summer job.
Mesothelioma, a cancer of the lining of the lung, chest cavity and abdominal cavity, is a signature disease of asbestos exposure. According to the article, the man was exposed to crocidolite asbestos starting at age 16 during three summers and for approximately four hours a day during his senior year of high school. He had no further known exposure to asbestos.
Laboratory analysis of samples of lung tissue revealed elevated levels of crocidolite asbestos fibers. The case helps establish that relatively short and/or intense exposure to crocidolite can lead to asbestos disease.
Crocidolite is one of the six naturally-occurring fibrous minerals that are currently regulated as "asbestos." Asbestos had many commercial applications, including building materials, auto parts and industrial gaskets. But its use was reduced in the last 1970s because of the occupational hazard it posed to workers. All forms of asbestos cause cancer, including mesothelioma and lung cancer, according to the World Health Organization.
It is estimated that between 1940 and 1980, 27 million Americans has significant occupational exposure to asbestos in their workplaces. Exposure to asbestos may cause mesothelioma, a cancer of the lining of the lung and abdomen, as well as lung cancer and asbestosis, a scarring of the lung that causes breathing problems. Chrysotile is the most common form of asbestos while crocidolite is considering among the most deadly.
Approximately, 2,500 to 3,000 people in the U.S. are diagnosed with mesothelioma each year. For most, the symptoms appear 20 years to 50 years after exposure. There is no known cure for mesothelioma, but there are treatment options available including surgery, radiation and chemotherapy to manage the cancer.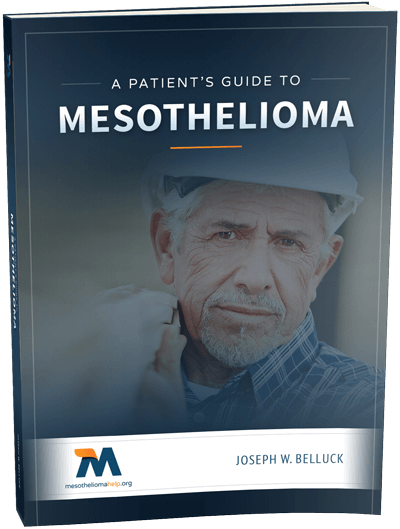 Free Mesothelioma Patient & Treatment Guide
We'd like to offer you our in-depth guide, "A Patient's Guide to Mesothelioma," absolutely free of charge.
It contains a wealth of information and resources to help you better understand the condition, choose (and afford) appropriate treatment, and exercise your legal right to compensation.
Download Now