Cancer Genetics Symposium Planned in Hawaii to Focus on Mesothelioma
Researchers in cancer genetics will gather in Hawaii in December to discuss the recent discovery of the BAP1 genetic mutation and its link to mesothelioma, melanoma and possibly other cancers. The University of Hawaii Cancer Center and the Queen's Medical Center will host the international symposium on Dec. 2
Mesothelioma, a cancer of the lining of the lung or abdominal cavity, is typically associated with exposure to asbestos or erionite, a mineral fiber similar to asbestos. Microscopic fibers of asbestos are inhaled and may remain deep in the lung, causing inflammation, scarring and eventually disease.
The third annual Translational Cancer Medicine Symposium will feature more than 20 global experts on cancer genetics including Carol M. Croce, M.D., Director of the Human Cancer Genetics Program at Ohio State University; Joseph Testa, Ph.D., Director of the Genomics Facility at Fox Chase Cancer Center and Michele Carbone, M.D., Director of the University of Hawaii Cancer Center.
A mesothelioma research team at the University of Hawaii Cancer Center led by Carbone announced in August the discovery of BAP1 gene mutation's link to mesothelioma and other cancers. It is the first study to demonstration that family genetics can influence susceptibility to mesothelioma.
"We are excited to bring these experts to Hawaii to work together to find ways to reduce the suffering and death caused by this mutation," Cabone said in a prepared statement issued by the University of Hawaii Cancer Center.
Mesothelioma causes the deaths of about 2,500 to 3,000 people a year in the United States and tens of thousands worldwide. People typically develop mesothelioma symptoms 20 years to 50 years after exposure to asbestos, though only a portion of those exposed to asbestos develops mesothelioma. Rates of new cases of mesothelioma in parts of the world including Europe and China, have risen steadily in the past decade.
The identification of the BAP1 cancer syndrome, caused by an inherited mutation of the BAP1 gene, offers a new tool to identify people at high risk of developing mesothelioma. It may lead to early detection of the cancer and benefit people who have an occupational hazard of exposure to asbestos in the workplace. When individuals with the BAP1 mutation are exposed to asbestos, mesothelioma may cause the death of 50 percent of the family members—a far greater incidence than in the population at large, the researchers found.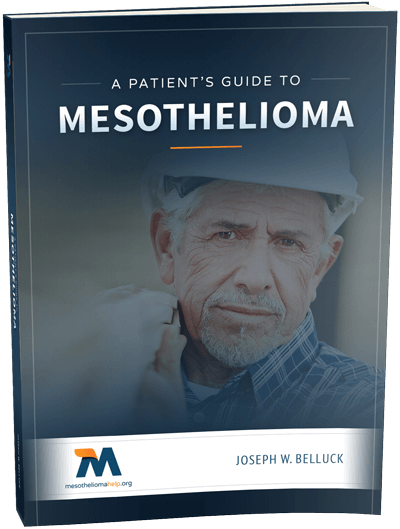 Free Mesothelioma Patient & Treatment Guide
We'd like to offer you our in-depth guide, "A Patient's Guide to Mesothelioma," absolutely free of charge.
It contains a wealth of information and resources to help you better understand the condition, choose (and afford) appropriate treatment, and exercise your legal right to compensation.
Download Now