About Us
Our team of writers, supporters and sponsors of this site are dedicated to bringing the latest, most comprehensive mesothelioma information to patients, families and caregivers.
Meet The Team
Our goal is to provide the appropriate information to families battling mesothelioma to empower them to participate in making the decisions about their care, and to offer some measure of hope and support.
Mesothelioma Help also provides information on how patients and families can obtain financial assistance, through veteran benefits, social security disability benefits and legal information that can help them make decisions in regards to filing a legal claim against asbestos companies.
People affected by asbestos related diseases have the legal right to seek compensation from those responsible for their illness or loss, because mesothelioma and other asbestos related diseases are entirely preventable.
Furthermore, mesothelioma can leave you with high medical bills, lost income and uncertainty about your family's future.
Joseph W. Belluck
Joseph W. Belluck is a founding partner of the law firm Belluck & Fox and has a long history of working with mesothelioma patients and other victims of asbestos exposure. Mr. Belluck oversees the selection and development of the content for this site. In addition, he approves the story topics that will be covered in the Mesothelioma Cancer Resources Blog.
Contributing Authors
Blogs & Web 2.0 Moderators
Many of the people involved with Mesothelioma Help are also advocates on behalf of mesothelioma patients, so we take our responsibility to provide the latest information about the disease in a factual and unbiased manner very seriously.
The information provided on our blog is designed to complement, not replace, the relationship between a patient and his/her own physician.
The comments on our blog are moderated by non-medical members of our editorial team. Moderators are not volunteers and should not have any conflicts of interest
Our moderators check comments once a day and decide to approve or reject user's comments, to make sure that the comments on our blog are respectful and honest. Users are encouraged to give source information for the health/medical
information on their comments when it is not personal experience or general
knowledge. Personal experience is any symptom, test, treatment etc. that the person or a close family member has undergone himself/herself. All statements about statistics, data, studies and new advancement in medicine should have trustworthy sources. Comments without sources will be rejected and deleted by moderators.
Users must only post information that is true and correct to their best knowledge. Users that leave comments using advertisement links, images, banners, content, etc.) are not permitted on the platform.
Moderators can also decide to ban users from leaving more comments without any warning or notification.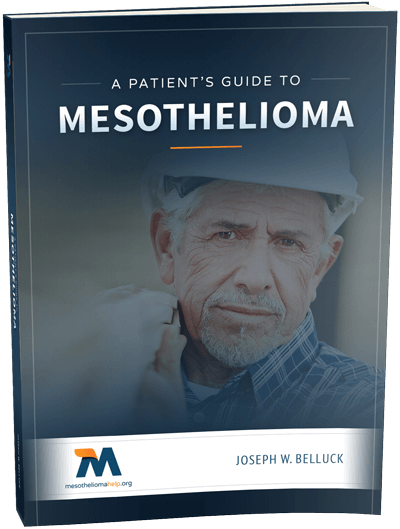 Free Mesothelioma Patient & Treatment Guide
We'd like to offer you our in-depth guide, "A Patient's Guide to Mesothelioma," absolutely free of charge.
It contains a wealth of information and resources to help you better understand the condition, choose (and afford) appropriate treatment, and exercise your legal right to compensation.
Download Now