Dignity Therapy to Improve Mesothelioma Patients' Perception of Life
Mesothelioma is a unique and rare form of cancer, typically affecting the lining of the lungs, caused by exposure to asbestos fibers. Usually not diagnosed until symptoms appear, sometimes decades after exposure to asbestos, patients are left with few treatment options as the disease rapidly progresses. The treatments at this point are often palliative and are intended to control pain, stop bleeding, and relieve pressure. Now, according to a study published in The Lancet Oncology, offering dignity therapy, an individualized, short-term psychotherapy, can help improve a patient's quality of life, increase a sense of dignity and alter the way patients were seen and appreciated by their family.
In the study, investigators from the University of Manitoba, Winnipeg, MB, Canada, randomly assigned dignity therapy, client-centric care or standard palliative care to 165 patients with a life expectancy of less than six months. Focusing on reduction of distress and self-reported end-of-life experiences, the researchers' goal was to determine whether dignity therapy could mitigate distress or bolster the experience in patients nearing the end of their lives.
While no significant differences were noted in the distress levels before and after completion of the study in the three groups, self-reported spiritual well-being and lessening of sadness or depression were significantly improved in the dignity group compared to the other two groups without dignity therapy. The researchers concluded that the benefits of dignity therapy "in terms of self-reported end-of-life experiences support its clinical application for patients nearing death."
Oftentimes, mesothelioma patients and their family turn to a hospice program when the patients no longer respond to the prescribed treatment plan, and their primary caregiver needs support caring for their loved one. Hospice is designed to improve the quality of a patient's last days by offering comfort and dignity, and often allows the patients to remain in their own home surrounded by their loved ones. This approach can be combined with dignity therapy to further support the patient.
Further, in the American Society of Clinical Oncology's guidelines released in January for care of patients with advanced cancer, they stated that with palliative care "patients with advanced cancer are given the opportunity to die with dignity and peace of mind." With palliative care, the expectation is that the patient will maintain a good quality of life until the end.
The authors of the study added, "Future research exploring the beneficial effects of dignity therapy will help to unravel the psychological, spiritual, and existential complexities for an individual facing death."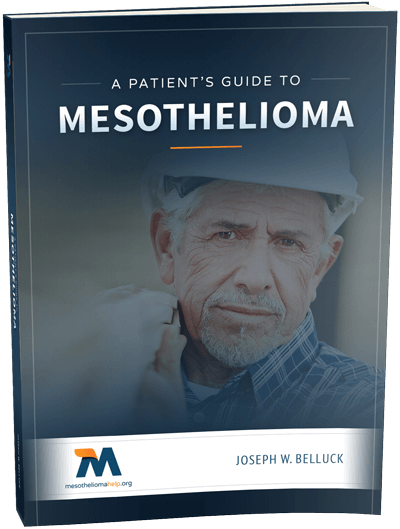 Free Mesothelioma Patient & Treatment Guide
We'd like to offer you our in-depth guide, "A Patient's Guide to Mesothelioma," absolutely free of charge.
It contains a wealth of information and resources to help you better understand the condition, choose (and afford) appropriate treatment, and exercise your legal right to compensation.
Download Now