Physicians Look for Clues About Why Women with Mesothelioma Live Longer
Mesothelioma is a long, hard battle for all who are involved with the diagnosis. Recent research may provide hope for women and men.
Earlier this year, the Annals of Thoracic Surgery reported women live longer with mesothelioma than men, even when they took into account factors like age at the time of diagnosis, the stage in which patients were diagnosed, and the treatment they received.
Researchers from Mount Sinai Health System and the Department of Population Health at North Shore Long Island Jewish Hospital reviewed the records of more than 14,200 mesothelioma patients diagnosed between 1973 and 2009. Twenty-two percent were women. They looked at factors that can impact treatment outcomes:
Age
Year of diagnosis
Race
Disease stage
Cancer-directed surgery
Radiation therapy
Vital stats (such as marriage status, number of children)
Overall, women with mesothelioma were found to live longer—as much as 13 percent longer. It's logical to wonder if female hormones play a positive role in disease survival and if they hold a clue for future treatment, or if androgens contribute to mesothelioma's rapid spread, as they do with prostate cancer.
Hormone Therapy is Linked to Longer-Term Survival of Lung Cancer Among Women
Another interesting discovery came from the Journal of Thoracic Oncology, which reported in March, that estrogen therapy significantly lengthened survival among women with non-small-cell lung cancer. Those who had progesterone added to their treatment lived even longer.
Researchers from Detroit's Karmanos Cancer Institute reviewed records of 485 women they identified from the Metropolitan Detroit Surveillance, Epidemiology, and End Results Registry. They gathered more information through interviews and other research. The women studied were treated between late 2001 and 2005.
Women who were treated with hormone therapy for 11 or more years had much better survival rates than those without, according to a summary published by the International Association for the Study of Lung Cancer:
Women who received estrogen lived for 80 months (6.6 years) versus 35 months (2.9 years) for those who had no hormone treatment.
Women who had progesterone and estrogen treatment lived 87 months (7.25 years).
"What has emerged from this study and other published findings is a complex relationship between hormone use and lung cancer outcomes, with variation based on years of use," Ann G. Schwartz, PhD, MPH, the lead author of the Thoracic Oncology article told IASLC. "There is more to learn about survival differences between men and women; hormone use may contribute to those differences."
As with any serious disease, Dr. Schwartz also noted that, "The largest impact on lung cancer outcomes will come from successful early detection and treatment."
Current Findings on Hormone Therapy for Men
Men with prostate cancer are often treated with androgen-suppressing drugs, which lowers the hormones that contribute to the cancer. Estrogens can suppress androgen, but they are rarely used because of their side effects on men, including increased risk for heart attack and stroke.
Can androgen suppression play a role in treating mesothelioma? The National Cancer Institute sponsored research by Dana-Farber Cancer Institute in Boston that combined androgen suppression (hormone) therapy with docetaxel chemotherapy for prostate cancer patients. These patients lived eight months longer than those who didn't have chemotherapy. Men in a more advanced stage of the disease showed the most positive results, according to an NCI press release.
"The results of this study are practice-changing," said lead investigator Christopher Sweeney, M.B.B.S. "Perhaps this kind of therapy will benefit other diseases that predominantly affect men."
Sources:
Annals of Thoracic Surgery
http://secure.jbs.elsevierhealth.com/action/cookieAbsent
National Cancer Institute
http://www.cancer.org/cancer/news/features/when-a-friend-has-cancer
International Association for the Study of Lung Cancer
https://www.iaslc.org/articles/hormone-therapy-linked-better-survival-after-lung-cancer-diagnosis-women
Journal of Thoracic Oncology
http://journals.lww.com/jto/Pages/default.aspx?PAPNotFound=true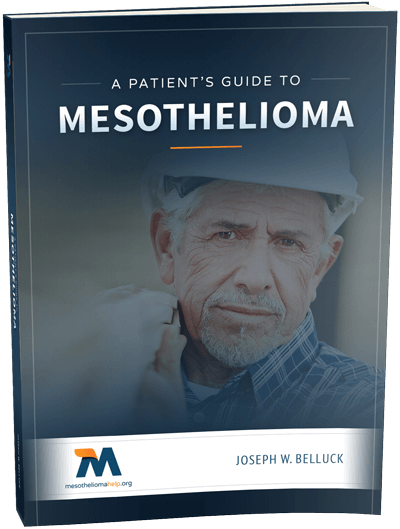 Free Mesothelioma Patient & Treatment Guide
We'd like to offer you our in-depth guide, "A Patient's Guide to Mesothelioma," absolutely free of charge.
It contains a wealth of information and resources to help you better understand the condition, choose (and afford) appropriate treatment, and exercise your legal right to compensation.
Download Now