Category:
Featured News
Participation in Clinical Trials is how progress is made in medical research.  The trials are regulated and must conform to rigorous standards and be able to be replicated. Research scientists dedicate their careers to making progress with treatments for diseases using Clinical Trials. The inclusion and exclusion criteria are very specific. Some Clinical Trials are not able to be done due to lack of enrollment. Participation is voluntary and only with informed consent that the patient can withdraw at any time. In the United States it is estimated that only 5% of adults eligible to participate in a Clinical Trial sign on.
Progress can be slow and results are often not what the researchers had hoped for. Responses can vary by individual participants and success is often made in small percentages of people responding to the treatment. 
This past week some very exciting news was published in the New England Journal of Medicine and reported widely in the media.  A surprising report was published of the results of a Clinical Trial with a small sample of patients diagnosed with a specific mismatch-repair deficiency rectal cancer and the immunotherapy drug Dostarlimab, brand name Jemperfi. This specific type of rectal cancer makes up 5-10% of all rectal cancers. 
Before beginning the standard treatment for this type of rectal cancer, which is chemotherapy followed by radiation followed by surgery, these patients joined a Clinical Trial testing Dostarlimab infusions before the standard treatment.  Dostarlimab is classified as an immunotherapy drug.  It has been approved by the FDA for treatment of certain types of endometrial cancers. The results were a surprising 14 out of 14 patients having a full remission.  No evidence of their disease was found!  For 100% of the patients enrolled in the study to have no evidence of disease after six months of treatment is what researchers dream of.  The importance of this response is exciting for all of the patients and researchers and for possible results with other cancers. More research with a larger number of patients will need to be done.
These results  are encouraging for research for malignant mesothelioma that are ongoing with some Clinical Trials including immunotherapy drugs. 
With renewed enthusiasm we encourage those diagnosed with Malignant Mesothelioma or any other cancer to checkout www.ClinicalTrial.gov or ask your treatment team about eligibility to participate in a Clinical Trial.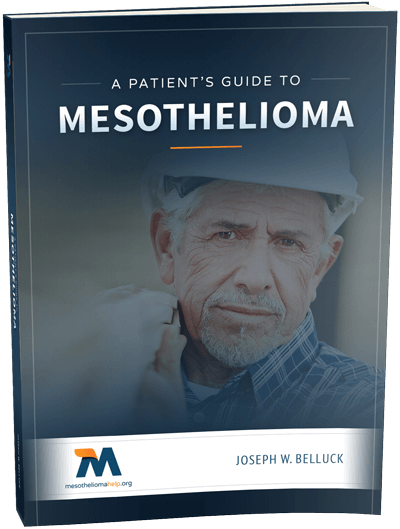 Free Mesothelioma Patient & Treatment Guide
We'd like to offer you our in-depth guide, "A Patient's Guide to Mesothelioma," absolutely free of charge.
It contains a wealth of information and resources to help you better understand the condition, choose (and afford) appropriate treatment, and exercise your legal right to compensation.
Download Now