Biomarker May Be Useful Prognostic Factor for Mesothelioma
Nearly 3,000 Americans a year hear the words, "You have mesothelioma." While the available treatments can relieve symptoms, they do little to improve survival. Stage of the disease, lifestyle, gender and age all play into a patient's survival. Now, researchers believe that the fibulin-3 biomarker may be another indicator for survival in mesothelioma patients.
Researchers from the Asbestos Diseases Research Institute of Australia, report that while fibulin-3, a protein that floats in blood plasma and in some bodily fluid, has previously been identified as a potential diagnostic marker for mesothelioma, it is also reliable as a prognostic marker. Such biomarkers as the fibulin-3 protein are being sought as a means to detect pleural mesothelioma at an earlier stage, to assist in prognosis, and to individualize treatment strategies for mesothelioma patients.
In a recent study, the researchers measured the amount of fibulin-3 in plasma and pleural effusion from malignant pleural mesothelioma patients and in tumor-bearing mice. They found that fibulin-3 was over-expressed in all mesothelioma lines and that there was a correlation between the expressed and secreted levels. They discovered that the fibulin-3 levels in "pleural effusion fluid were found to be independently associated with prognosis."
In a 2012 study, using a simple blood test and a lung fluid test of pleural effusion, researchers from NYU Langone Medical Center, led by Dr. Harvey Pass, Director, NYU Division of Thoracic Surgery and  Chief of Thoracic Oncology, at NYU Langone, found that the protein fibulin-3 is four to five times more elevated in individuals with mesothelioma than those without. By measuring the levels of fibulin-3 the researchers were able to distinguish healthy people with exposure to asbestos from patients with mesothelioma establishing the protein as a potential mesothelioma diagnostic marker.
According to the NYU Langone website, the team is continuing to study the usefulness of fibulin-3 as a diagnostic marker through "a large validation study using an asbestos exposed cohort of individuals in Santiago Chile." The study, funded by the NCI, was scheduled to begin in the third quarter of 2015.
Pleural mesothelioma, a rare form of cancer affecting the lining of the lungs, is highly aggressive and there is no cure for the disease. Any research unique to mesothelioma brings hope to the community that finding a new, effective treatment is on the horizon.
The results of the ADRI study were published in the Sept. 2015 British Journal of Cancer.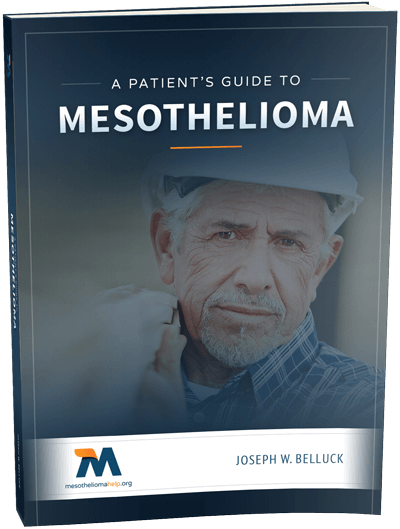 Free Mesothelioma Patient & Treatment Guide
We'd like to offer you our in-depth guide, "A Patient's Guide to Mesothelioma," absolutely free of charge.
It contains a wealth of information and resources to help you better understand the condition, choose (and afford) appropriate treatment, and exercise your legal right to compensation.
Download Now