Cultivating the Next Generation of Mesothelioma Researchers
The study of mesothelioma is led by passionate scientists, doctors, researchers and advocates who have dedicated their lives to making progress leading to a cure. Once a year, at the annual Mesothelioma Applied Research Foundation conference, they get re-charged by meeting the victims and their families and by putting faces to the patients and families struggling with mesothelioma.
How does the next generation of researchers find out about mesothelioma and become impassioned to study towards a cure? There are several initiatives that are aimed at college students to gain the opportunity to learn and study about mesothelioma.
One is through the Jan Egerton and Don Smitley Mesothelioma Scholarship open to all U.S. college students, sponsored by MesotheliomaHelp. The scholarship is designed to spread awareness of mesothelioma, by having college students research and write about mesothelioma and the dangers of asbestos. Increasing awareness of the facts regarding mesothelioma, also increases the number of young people who become knowledgeable about the history of the disease. Spreading the word to a younger generation, and encouraging them to get involved with the mesothelioma community, expands the community in a very positive direction.
Another initiative is a fellowship by the International Association of Heat and Frost Insulators Union, named for their General President, The "James A. "Jim" Grogan Endowed Fund for Excellence" at Notre Dame University. Three students from Notre Dame, will be funded as a student intern in asbestos-related medical research, focusing on early detection, effective treatment and cure of asbestos diseases including mesothelioma and lung cancer. The start of their fellowship is attendance at the Mesothelioma Applied Research Foundation International Symposium on Malignant Mesothelioma. Hearing patients' journeys firsthand gives the students a very personal perspective before they head to the lab.
As a new generation is learning and researching towards a cure – and the current researchers continue to make groundbreaking discoveries – we hope and pray, that together they will be successful in their research!
Know more about Mesothelioma and how you can deal with it.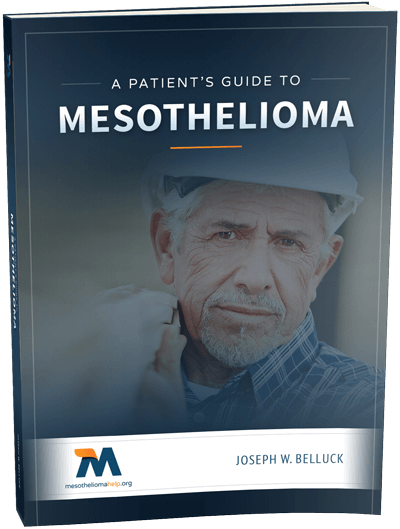 Free Mesothelioma Patient & Treatment Guide
We'd like to offer you our in-depth guide, "A Patient's Guide to Mesothelioma," absolutely free of charge.
It contains a wealth of information and resources to help you better understand the condition, choose (and afford) appropriate treatment, and exercise your legal right to compensation.
Download Now