Feeding Tubes as Part of Mesothelioma Care
During a patient's journey with mesothelioma, or any cancer, nutrition plays a vital role. Research has shown us how important proper nutrition is in the healing process. It is a building block of recovery, especially one that includes surgery, chemotherapy and radiation.
Some patients who are having treatment for mesothelioma have a complication that involves inserting a feeding tube. Often, this is a temporary measure until the patient is stronger and is able to maintain their nutritional status on their own.
The thought of a tube being inserted into your body, and feedings going through them is a difficult concept for many patients and their families.
There is a lot of misinformation regarding the insertion of a feeding tube and the role of tube feedings in treatment of patients. Insertion of a feeding tube and initiation of tube feedings are always done after careful consultation with the patient's medical team and the patient. There are a lot of different scenarios for why a feeding tube might be recommended for a patient.
Feeding tubes can be placed in the nose or abdomen. For patients who are going to need them for more than a few days, it is usually the abdomen. Patients who are going to a rehab facility after their hospitalization usually have the feeding tube placed in their abdomen. The tubes themselves can be temporary and can be removed when they are no longer needed.
There are different kinds of feeding tubes and different reasons for placing the tubes where they are being placed. A nasogastric tube is placed through the nose, and the tube ends up in the stomach. This tube is good for patients who require feeding for a short amount of time.
A direct method to the stomach is a gastrostomy tube- which is placed into the stomach with the tube coming through the abdomen. A percutaneous endoscopic gastrostomy tube, PEG tube, is a technique for placing a gastrostomy through the skin to the stomach. A jejunostomy tube, J-tube, is placed directly to the intestine instead of through the stomach. There is also a percutaneous route to insert this tube called a PEJ tube. There are also tubes that have a gastric portion and a jejunal portion. The location of the tube is decided based on the individual patient's situation.
The whole issue of feeding tubes and the actual tube feedings can be overwhelming. There are resources available on the internet for support and questions. See the Feeding Tube Awareness Foundation and www.shieldhealthcare.com for more information.
From my experience with mesothelioma patients, when feeding tubes are inserted and tube feedings begin it is usually a temporary measure allowing patients to heal over time. We have seen patients regain their strength quickly and no longer need the tube.
All patients and their mesothelioma care are unique. Ask questions of your team. Reach out for information as you, your family and your medical care team all work toward the best possible care.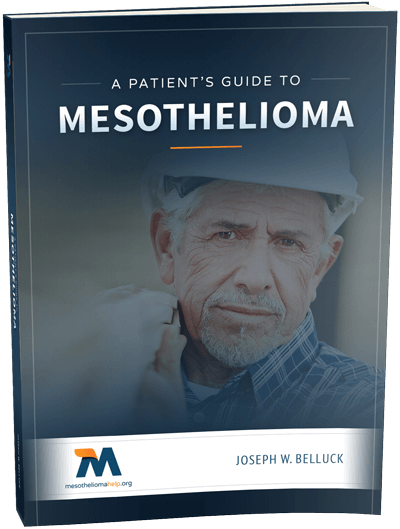 Free Mesothelioma Patient & Treatment Guide
We'd like to offer you our in-depth guide, "A Patient's Guide to Mesothelioma," absolutely free of charge.
It contains a wealth of information and resources to help you better understand the condition, choose (and afford) appropriate treatment, and exercise your legal right to compensation.
Download Now