Mesothelioma Patients Have Built-In Support Group in Their Family
There are many wonderful support groups out there for patients and families of those with mesothelioma.  You are encouraged to share your experiences and get insight and support from others who have been in a similar situation.  However, support groups aren't for everyone, as some people prefer to keep to themselves or turn to their family.
Family is key in helping mesothelioma patients recover physically as well as mentally and emotionally. Family members should encourage their loved ones and assure them that you're there to help in any way.  A listening ear can be invaluable.  Try not to push the person to talk about their diagnosis if they don't feel up to it.  They are going through a huge emotional strain and, although it's healthy to talk about your problems, you have to let them do it on their own time.
Do your best not to push your family member too much to do things they don't feel up to doing, or may not be physically ready to perform.  As essential as it is for them to move around and exercise, you don't want them to overexert themselves.  It might take them a long time to rebound from a long day at the mall or an extended trip.
I believe that everything has a balance, and this situation is no exception.  Supporting a family member with mesothelioma is an honor, but it can be tough at times as well.  Hearing about their pain and suffering is a trying experience, but remember, you are there for them, not the other way around in this case.
On the other end of the spectrum, if you are having a hard time coping with the diagnosis of a loved one, there are plenty of external resources and support groups for you, too.  The Mesothelioma Applied Research Foundation has many different options for caregivers as well as survivors.  Take advantage of these services that are so precious.
There are other online support groups such as Cancer Buddies Network. Cancer Buddies Network  is an online support network for anyone, anywhere affected by cancer. Share the ups and downs, laughter and tears with someone who knows how it feels because they've been there too. You can either chat 1-to-1 by private messaging onsite, or on our lively forum 24/7. Whether you have experienced cancer yourself, or you are family, friend or carer, you can search for your buddy simply and safely on their dedicated website.
Keep your chin up, and continue to pray!  Remember, a cure could come at any time!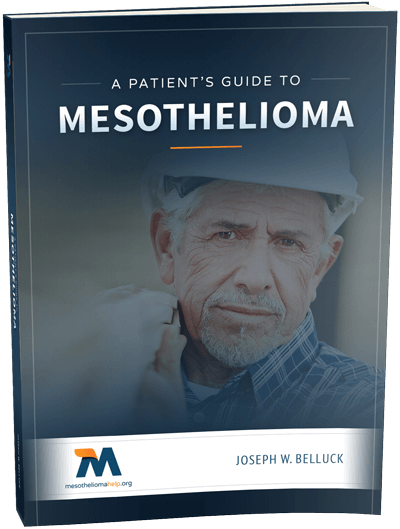 Free Mesothelioma Patient & Treatment Guide
We'd like to offer you our in-depth guide, "A Patient's Guide to Mesothelioma," absolutely free of charge.
It contains a wealth of information and resources to help you better understand the condition, choose (and afford) appropriate treatment, and exercise your legal right to compensation.
Download Now