Author:
Joseph Belluck
Dr. Paul Baas of the Netherlands Cancer Institute and the University of Leiden in Amsterdam recently presented on the CheckMate 743 study at the International Association for the Study of Lung Cancer World Conference. The randomized phase III Checkmate 743 clinical trial prescribed mesothelioma patients who were not candidates for surgery with a combination of first-line nivolumab and ipilimumab.
The promising results yielded a four-month improvement in median overall survival for patients who received the new dual-immunotherapy regimen as compared with those who had received platinum-based chemotherapy, the current double-chemotherapy standard of care for mesothelioma.
"This is the first positive randomized trial of dual immunotherapy in first-line treatment of patients with unresectable MPM," Dr. Bass noted. "And therefore nivolumab plus ipilimumab should be considered as a new standard of care."
The patients featured in the phase III trial were randomly assigned treatment plans consisting of either a maximum of two years of nivolumab and ipilimumab, or six cycles of pemetrexed alongside cisplatin or carboplatin.
Results revealed that the treatment plan consisting of nivolumab and ipilimumab yielded comparable efficacy outcomes to chemotherapy for progression-free survival and objective response rate, but was significantly more successful than chemotherapy when it came to the duration of response (DOR). The DOR for the dual-immunotherapy treatment reached 11.0 months whereas the DOR for chemotherapy reached only 6.7 months.
"In the ipi/nivo survival curve, going out to 36 months, we see a plateau at about 30%,… suggesting, as we've seen with other trials of immunotherapy, there is a degree of durability that is way beyond what we've seen previously with chemotherapy. And this, indeed, may have been driven by maintenance nivolumab," explained Dr. Dean Fennell of the Cancer Research UK Centre Leicester, University of Leicester and University Hospitals of Leicester NHS Trust.
Our medical experts can help you make sense of your treatment options and how to move forward. Reach out today.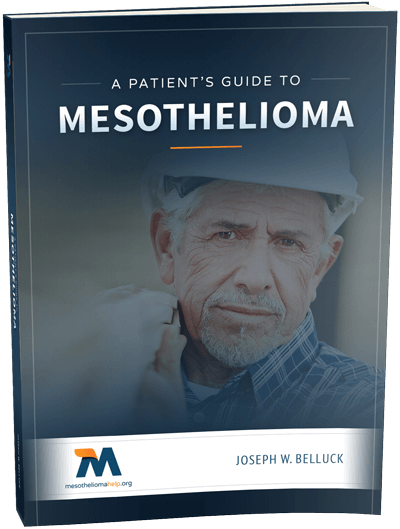 Free Mesothelioma Patient & Treatment Guide
We'd like to offer you our in-depth guide, "A Patient's Guide to Mesothelioma," absolutely free of charge.
It contains a wealth of information and resources to help you better understand the condition, choose (and afford) appropriate treatment, and exercise your legal right to compensation.
Download Now