Navy Veteran's Award of $32 Million for Asbestos Exposure Among Largest NY Verdicts
A $32 million verdict awarded to a Navy veteran diagnosed with mesothelioma from exposure to asbestos aboard ships ranks among the five largest New York verdicts of 2011, according the legal publication Verdict Search.
The New York Mesothelioma law firm of Belluck & Fox represented Ronald Dummitt and his wife Doris Kay Dummitt, who accused asbestos manufacturers of recklessly failing to warn him about the health hazards of their products used on ships. Inhaling microscopic asbestos fibers causes mesothelioma, an incurable cancer that produces tumors in the lining of the lung and the abdominal cavity.
A New York jury in August 2011 awarded Ronald Dummitt, who served as a boiler tender and a Master Chief Petty Officer, and his wife $16 million for past pain and suffering and $16 million for future pain and suffering. The jury found that the asbestos manufacturers had acted with reckless disregard for the safety of others by failing to warn of the dangers of asbestos.
The jury determined that Dummitt developed pleural mesothelioma, a cancer of the lining of the lung, while serving aboard seven U.S. Navy ships between 1960 and 1977. Dummitt, who worked in the boiler room and fire rooms in the ship, was exposed to asbestos while repairing Crane Co.-manufactured valves, which involved removing and replacing asbestos containing gaskets, packing and lagging pads on each ship.
In addition, Dummitt was exposed to asbestos while working with Eliot Turbomachinery, Inc. – manufactured de-aerating feed tanks containing asbestos lagging pads and gaskets on one of the ships, the jury determined. The jury apportioned 99 percent of the responsibility to Crane and 1 percent to Eliot.
Navy veterans are among the workers most at risk of developing mesothelioma and asbestos disease. Asbestos materials were widely used on ships from World War II through the 1970s. Veterans who served on ships in the 1970s or 1980s may only recently have begun to experience symptoms of asbestos disease.
Dummitt said that he was originally diagnosed with pleural plaques, areas of scarring on the lining of the lung resulting from asbestos exposure in 2003. He began experiencing pain from accumulation of fluid on his lung and was diagnosed in April 2010 with pleural mesothelioma. Symptoms of mesothelioma often appear decades after exposure to asbestos.
"While no amount of money can restore Mr. Dummitt's health, this mesothelioma verdict is just, and it represents all that we can do to set things right," New York mesothelioma attorney Jordan Fox, a founding partner of Belluck & Fox, LLP said in a press release. "The jury identified the culprits and the degree to which they contributed to his fatal disease, and to that extent, the truth prevailed. We are proud to have represented him."
http://www.prweb.com/recentnews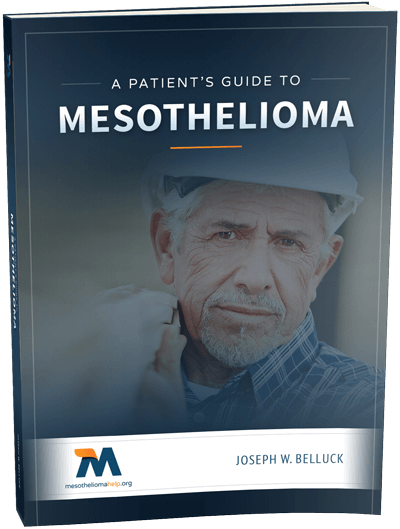 Free Mesothelioma Patient & Treatment Guide
We'd like to offer you our in-depth guide, "A Patient's Guide to Mesothelioma," absolutely free of charge.
It contains a wealth of information and resources to help you better understand the condition, choose (and afford) appropriate treatment, and exercise your legal right to compensation.
Download Now