Routine CT Screenings for Lung Cancer Would Detect Cancer Earlier and Save Lives
Men and women in the United States undergo regular screenings for certain cancers such as prostate cancer, breast cancer and colon cancer as part of routine medical checkups after a certain age. But patients typically don't get screened for lung cancer, the most lethal cancer in the U.S.
Lung cancer kills more than 150,000 people each year in the United States. Lung cancer is associated with smoking as well as exposure to asbestos. More people die of lung cancer in the U.S. each year than die of breast cancer, colon cancer, prostate cancer and cervical cancer combined.
A new actuarial study published in the April issue of Health Affairs, a leading health policy journal, suggests that providing lung cancer screenings as an insurance benefit would save lives at a relatively low cost—about $12 a year per insured person. The refinement of low dose spiral CT scans, which can be done in a few seconds, has improved the detection of tumors in the lungs and reduced the need for invasive tests. Lung cancer and mesothelioma, a cancer of the lining of the lung, are both caused by inhaling asbestos fibers. Both often go undetected until they have reached an advanced stage.
Some studies have shown CT scans to detect early stage lung cancer in high-risk patients who were not showing any symptoms. A randomized study comparing two ways of detecting lung cancer in more than 53,000 older men and women found that patients who received low dose CT scans had a 20 percent lower risk of dying of lung cancer than those who received standard chest x-rays.
The actuarial study, performed by actuaries with the consulting firm Milliman in New York, analyzed the cost and benefits of lung cancer screenings for Americans ages 50 to 64, who were smokers or former smokers and had the equivalent of a pack-a-day habit for 30 years. That high-risk group includes about 18 million people in the U.S.
The study estimated the average yearly cost of lung cancer screenings to be $247 per person screened. The screenings would result in 130,000 additional lung cancer survivors in the first year. The analysis estimated that more cases of lung cancer would be detected at an earlier stage. It found that CT scans for lung cancer would cost insurers less than screenings for cervical cancer, colon cancer and breast cancer. Spread over the entire population of Americans with health insurance, the cost is $12 per year.
The authors recommend that commercial insurance companies should consider providing coverage for lung cancer screenings using low dose CT scans for people at high risk of developing lung cancer.
Workplace asbestos exposure is associated with a greater risk of developing lung cancer or mesothelioma. Those who smoke and are exposed to asbestos have an even greater risk of developing lung cancer or mesothelioma. These diseases have similar symptoms that include a persistent cough, chest pain, shortness of breath and weight loss.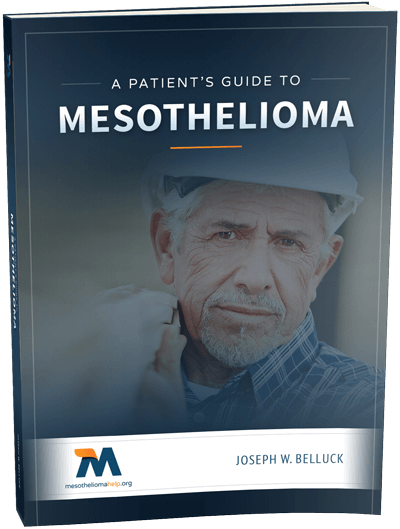 Free Mesothelioma Patient & Treatment Guide
We'd like to offer you our in-depth guide, "A Patient's Guide to Mesothelioma," absolutely free of charge.
It contains a wealth of information and resources to help you better understand the condition, choose (and afford) appropriate treatment, and exercise your legal right to compensation.
Download Now