Nurse Talks of Grief and Guilt That Come After Losing Loved One
Mesothelioma is a difficult disease to diagnose. Often, it can take months to get an accurate diagnosis and to settle on a treatment plan. When talking to family members after a death from mesothelioma, it is clear that even when they reflect on the difficulty in diagnosis it does not comfort them. Many spouses, family members and caregivers feel guilty over the path they did not take in an effort to "save" their loved one from the disease. Missed doctor's appointments, alternative measures not taken, resources that they did not know about all add to the burden of guilt about their choices.
Mesothelioma patients and families often think, "I should have noticed something sooner," or "I should have encouraged him/her to go a different doctor." Some even ask, "What could I have done to prevent this death?" With mesothelioma and the direct link to asbestos exposure comes an added burden of exposure guilt.
"Why did I put my family member in harm's way?" A son or a daughter could have been exposed to asbestos through everyday activities like laundering of clothes, a summer job as a teenager, or living near a factory that manufactured products made with asbestos. It is inevitable that people start blaming themselves for the exposure to asbestos, or not noticing sooner that something was wrong. Although they know in their heads that it is not their fault, their hearts are telling them something different.
Guilt and grieving are not processes that involve a timeline. Some people believe that if a loved one had a long sickness, and death was expected, than the grieving process should be shorter and less painful. The grieving family member can hear comments like, "You have to move on." "You're young, you will meet someone else." Often the person that is saying these things does not realize how hurtful they can be. All of us grieve and accept diagnoses, disappointments, and life changes on our own time.
Mesothelioma patients and families have a long journey with this dreadful disease. From diagnosis to death to the grief of loss, the medical team encourages families to reach out for support on their unique journey with mesothelioma.
"Threads of Hope: An Offering for Those Who Grieve," by Beth Rotondo, is a small book that was given out at a recent memorial service. This book, or other similar self-help books, could be used as a reference for any one of us as we experience loss throughout our lives.
If you have questions about your mesothelioma treatment or any aspect of your mesothelioma care, please contact us.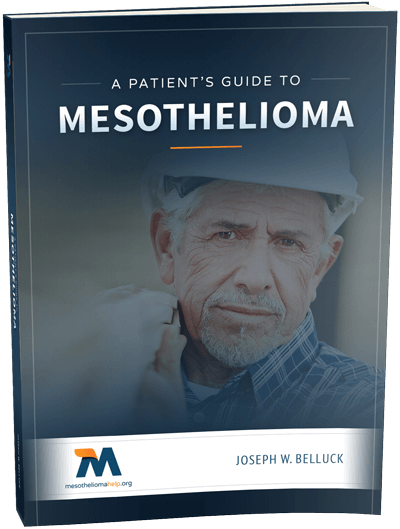 Free Mesothelioma Patient & Treatment Guide
We'd like to offer you our in-depth guide, "A Patient's Guide to Mesothelioma," absolutely free of charge.
It contains a wealth of information and resources to help you better understand the condition, choose (and afford) appropriate treatment, and exercise your legal right to compensation.
Download Now