Mesothelioma Caregivers Can Reach Out for Help
Being a caregiver can be very rewarding, but there is also no doubt that it can also be life-altering and stressful. Most people never envisioned that they would become caregivers. Life took them on a path that they neither predicted nor planned for. Mesothelioma can have an incubation period of up to fifty years after exposure to asbestos to the first symptoms. During this time many roles have been established in your relationship with your family members, maybe caregiving was a part of it, maybe not.
Over the years of talking to mesothelioma patients and their families regarding the role of the caregiver, it is clear that due to the nature of the disease of mesothelioma the emotional impact of being a caregiver is lasting and can be very isolating. The stress involved can impact the caregiver's health as well.
A recent study showed that caregivers can shorten their own lives by not taking care of themselves. The long-term stress has a cumulative effect on their health. Of the tips most often listed for caregivers, making sure they take care of themselves is the most important. If the caregiver is not healthy, caring for their loved one will not be easy and can suffer. Caregivers need to keep their own medical appointments, get plenty of sleep and eat well. Also, being informed about mesothelioma and what to expect next can help ease some of the stress of the unknown.
All this sounds good, but how do you possibly do it if you are caring for someone sick with mesothelioma? Accept help, organize the help, and allow people and friends to do specific tasks. Let yourself go out for the afternoon, and get a little distance between yourself and the one you are caring for for a few hours. Appreciate the help you get – you can't be expected to be by your loved one's side at all times.
Seeking help can take different forms for different personalities. Some people seek individual counseling, whereas others prefer support groups. Social media is a good place to start to find information about mesothelioma and to hear from others with the disease. Also, talk with your medical team for suggestions of an appropriate support group. Whatever the choice, please reach out to someone or some group to make your journey a little less lonely.
Mesothelioma has already made a huge impact on your life, don't let it steal your health also.
If you have questions about your mesothelioma treatment or any aspect of your mesothelioma care, please contact us.
Know more about Mesothelioma and how you can deal with it.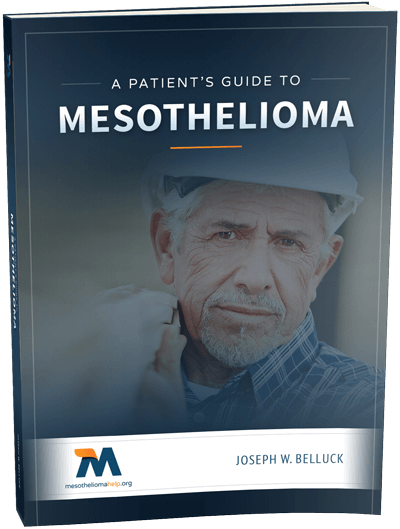 Free Mesothelioma Patient & Treatment Guide
We'd like to offer you our in-depth guide, "A Patient's Guide to Mesothelioma," absolutely free of charge.
It contains a wealth of information and resources to help you better understand the condition, choose (and afford) appropriate treatment, and exercise your legal right to compensation.
Download Now