Accelerated Approval Granted to Drug in Mesothelioma Research Pipeline
In July, MesotheliomaHelp reported on a phase I clinical trial where various cancers, including mesothelioma, were being tested for the safety and tolerability of the drug avelumab. Now, the maker of the drug reports the U.S. Food and Drug Administration has granted accelerated approval to Bavencio (avelumab) for the treatment of patients with metastatic Merkel cell carcinoma (MCC).
EMD Serono Inc. reports the approval was based on the results of the JAVELIN clinical trial where of 88 patients with MCC who had been previously treated with at least one chemotherapy regimen, 33 percent experienced complete or partial shrinkage of their tumors. The response lasted for more than six months in 86 percent of responding patients and more than 12 months in 45 percent of responding patients, according to the FDA.
"The scientific community continues to make advances targeting the body's immune system mechanisms for the treatment of various types of cancer," Richard Pazdur, MD, of the FDA office of hematology and oncology products, said in a March 23 press release. "These advancements are leading to new therapies — even in rare forms of cancer where treatment options are limited or non-existent."
Bavencio is an investigational immunotherapy drug that targets the PD-L1 protein. The drug works by blocking signals from PD-L1 tumors, activating the immune system, allowing it to take over and attack and kill cancer cells. Merck KGaA, Darmstadt, Germany, and Pfizer have formed a strategic alliance to co-develop and co-commercialize the drug. This is the first FDA-approved therapy for patients with MCC.
Metastatic MCC is a rare and aggressive skin cancer, with fewer than half of patients surviving more than one year and fewer than 20% surviving beyond five years.
Like MCC, mesothelioma is a rare, orphan disease that is challenging to treat and often recurs in patients. Prognosis for mesothelioma is often less than 18 months. With an initial positive result for mesothelioma patients with this drug in the JAVELIN clinical trial, the mesothelioma community is hoping for continued positive results that could lead to a new treatment for patients with the asbestos-caused cancer.
According to the FDA, Accelerated Approval enables the FDA to approve drugs for serious conditions to fill an unmet medical need using clinical trial data that is thought to predict a clinical benefit to patients.
Bavencio also received Orphan Drug designation, which provides incentives to assist and encourage the development of drugs for rare diseases.
"Today is a significant milestone for people fighting metastatic Merkel cell carcinoma, who until now have not had any options beyond chemotherapy," said Albert Bourla, Group President, Pfizer Innovative Health in a March 23 press release. "This approval demonstrates the power of collaboration to accelerate meaningful new choices for cancer patients."
Pleural mesothelioma is a terminal cancer of the lining of the lungs caused by past exposure to asbestos. The cancer is diagnosed in nearly 3000 Americans each year.
For more information about the ongoing JAVELIN clinical trial see ClinicalTrials.gov.
Sources:
ClinicalTrials.gov
https://clinicaltrials.gov/ct2/results?term=%22malignant+mesothelioma%22&recr=Open&pg=1
FDA office of hematology and oncology products
https://www.fda.gov/NewsEvents/Newsroom/PressAnnouncements/ucm548278.htm
Albert Bourla, Group President, Pfizer Innovative Health
http://media.emdserono.com/2017-03-23-FDA-Grants-Approval-for-BAVENCIO-R-avelumab-the-First-Immunotherapy-Approved-for-Metastatic-Merkel-Cell-Carcinoma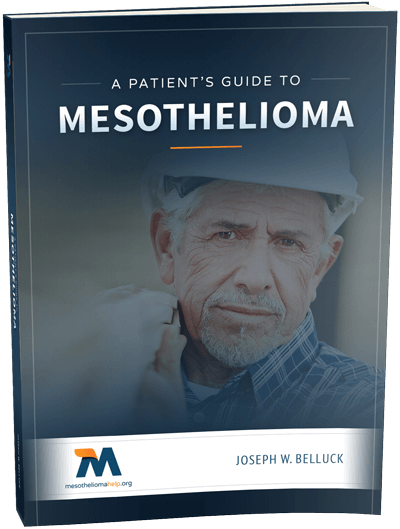 Free Mesothelioma Patient & Treatment Guide
We'd like to offer you our in-depth guide, "A Patient's Guide to Mesothelioma," absolutely free of charge.
It contains a wealth of information and resources to help you better understand the condition, choose (and afford) appropriate treatment, and exercise your legal right to compensation.
Download Now