Cleveland Clinic
Background
Cleveland Clinic is a nonprofit, multispecialty academic medical center. It provides clinical and hospital care in addition to research and education. With more than 1,400 beds on the main campus and 4,450 beds system-wide, Cleveland Clinic is among the largest and most respected hospitals in the nation.
A number of important medical breakthroughs have taken place at Cleveland Clinic. In the 1940s, the clinic discovered how to isolate serotonin, which is a key factor in hypertension. The development and refinement of coronary bypass surgery first took place at this clinic in 1967. Cleveland Clinic was also a pioneer in finding out the actual gene linked to coronary artery disease. This detection occurred in 2003. Most recently, the world's first heart/liver transplant in a patient with a total artificial heart happened at Cleveland Clinic in 2009.
Structured as a group practice, Cleveland Clinic physicians on staff are salaried employees, not in private practice. In this way, they collaborate with other doctors so that their wisdom and expertise benefit both the patient and the community. Furthermore, Cleveland Clinic is organized in practice units called institutes. Each specialty focuses on a specific organ or disease system so that doctors can more easily join forces to provide patient-centered care.
U.S. News and World Report continually recognizes Cleveland Clinic as one of the country's best hospitals in its annual "America's Best Hospitals" issue. Also, the Cleveland Clinic heart and heart surgery program has received the number 1 ranking in the nation since 1995.
Cancer Treatments
Cleveland Clinic Taussig Cancer Institute is available to help people who have questions about any aspect of this disease and for diagnosis and treatment. More than 250 highly experienced doctors, nurses and other health care staff offer advanced cancer care to over 14,000 patients every year. Clinical trials and internationally known cancer research investigations provide patients with the most groundbreaking treatments of this disease. In addition, the institute has a range of support programs to help patients cope with the challenges of living with cancer.
Taussig provides advanced methods and techniques to treat a wide array of cancerous illnesses and blood disorders. From bone, breast and bladder cancer to multiple myeloma, sickle-cell anemia, and melanoma, the institute has skilled specialists to determine treatment plans that are customized for each patient. In addition, Taussig offers a variety of medical approaches that include bone marrow transplants, chemotherapy, radiation therapy, surgery, hormone therapy, pain management, and immunotherapy.
Mesothelioma is a very rare type of cancer where tumors form in the sac lining the chest, including the lungs, or the abdomen. The majority of people who live with this disease have been exposed to airborne asbestos. Symptoms of mesothelioma include shortness of breath, pain in the chest or swelling in the abdomen. Usually, it can take a long time before symptoms of this disease are noticed. Many mesothelioma patients are not aware that they have this ailment until 15 to 60 years after they have breathed in toxic materials due to their workplace.
People with mesothelioma can get comprehensive, coordinated, multidisciplinary care from Cleveland Clinic Taussig Cancer Institute. The clinic's thoracic surgeons, medical and radiation oncologists, pulmonologists, and radiologists collaborate to diagnose staging and treatment for every patient. A team of internationally respected specialists collaborate to diagnose, stage, and treat mesothelioma symptoms in a plan that is customized to fit each patient's needs.
In addition, patients are urged to participate in multi-center investigational trials that provide innovative treatment protocols that may involve surgery, radiation, and/or chemotherapeutic agents or biologic response modifiers. Since lung cancer is a leading cause of death for both men and women, the institute's surgeons, physicians and researchers frequently participate in multicenter trials such as the "Phase I/II study of a triplet combination of CBP501, pemetrexed and cisplatin in patients with advanced solid tumors and in chemotherapy naïve patients with malignant pleural mesothelioma." Cancer research that concentrates on lung cancer and related diseases such as mesothelioma and chest tumors is regularly conducted at the Cleveland Clinic Taussig Cancer Institute. It is also a major focus of this facility.
Diagnosing this disease can be a challenge because symptoms may mimic those of other types of cancers. This is why a comprehensive physical examination is necessary in addition to a complete medical history. While there is no early detection test for mesothelioma, there are certain tests that can be used to help diagnose this ailment. Chest x-rays, CT scans, and MRI scans are frequently used to determine if mesothelioma is present. Physicians can also remove a tissue sample from the tumor or draw fluid to confirm a mesothelioma diagnosis.
Treatment for this type of cancer may include surgery, radiation therapy, chemotherapy or photodynamic therapy. Surgery is a technique used to remove fluid that can accumulate between the lung and the lining of the lung known as the pleura. It may also include a resection (partial lung removal), lobectomy (complete lobe removal), or a Pneumonectomy (entire lung removal). Radiation is another approach and it's especially important for pain control. This medicine can be given with or without chemotherapy, including advanced high-dose techniques that spare healthy organs. Patients who are put on a chemotherapy regimen can see an improvement in symptoms and in life expectancy. Photodynamic therapy is a procedure that involves injecting chemicals, which are then absorbed by cells. A laser is then used to kill cells that are cancerous.
The choice to use a certain treatment depends on where the cancer is located, how far it has spread in the body, the patient's age and general health. In terms of a prognosis, the outlook is influenced by many factors that include the size and location of the cancer, how far it has spread, how the cancer cells look under a microscope, how the cancer responds to treatment, and the patient's age.
Know all about other Mesothelioma Doctors & Hospitals Near you.
Source: https://my.clevelandclinic.org/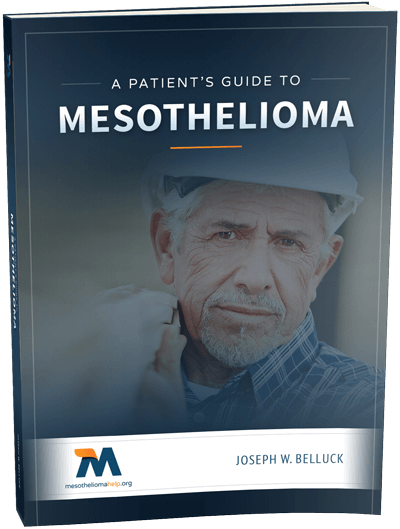 Free Mesothelioma Patient & Treatment Guide
We'd like to offer you our in-depth guide, "A Patient's Guide to Mesothelioma," absolutely free of charge.
It contains a wealth of information and resources to help you better understand the condition, choose (and afford) appropriate treatment, and exercise your legal right to compensation.
Download Now