Duke Cancer Institute
Duke Medicine has been a leader in cancer care and research for the last 40 years. The Duke Cancer Institute (DCI) is still committed to living up to its national and global reputation by providing the latest in diagnosis, treatment, research, education and training.
With 100 oncology-dedicated, board-certified physicians and 500 clinical staff that include nurses, social workers, nutritionists and other health care professionals, DCI is equipped to provide specialized care to patients. Since 1993, Duke has been rated as one of the best centers in the country for cancer care, according to U.S. News and World Report. It is also viewed as a leading cancer center in the southeast.
DCI is a single location that combines cancer care and research. Through this joining of forces, physicians, researchers, educators and staff from the medical center, medical school and health system, DCI encourages promising opportunities for teamwork with the goal of investigating and successfully treating many forms of cancer.
DCI cares for almost 6,000 new cancer patients each year who come from every state in the country and every county in North Carolina. In addition, DCI is a National Cancer Institute (NCI)-designated comprehensive cancer center. Also, DCI has clinical and research partnerships in India, China, Singapore and in other locations across the nation.

Cancer Treatments
Organized into 10 Disease-Site Groups and 9 NCI-Designated Programs, DCI is set up with 3 leaders who represent clinical care, clinical research, and basic research. All 3 work as a team to create cutting edge advances in diagnosis, treatment and the continuing care of cancer patients.
The Disease-Site Groups include brain tumor, breast cancer, gastrointestinal cancer, genitourinary cancer, gynecologic cancer, hematologic cancer, melanoma, pediatric cancer, sarcoma and thoracic cancer.
The NCI-Designated Programs comprise 9 basic, clinical and translational areas that are meant to promote research opportunities that affect cancer care. These programs range from cancer prevention and women's cancers to radiation oncology and imaging to tumor biology.
DCI cancer patients have the option of participating in a number of different clinical trials. Physicians work with these individuals to determine trials that are appropriate for their conditions.
In addition, DCI supports 18 shared resources that provide access to technologies, services, and scientific consultation. Therefore, patients and physicians can take advantage of the latest advances in cancer care at a cost-effective price.
Lung cancer is the deadliest form of this cancerous disease. DCI takes an aggressive stance with the diagnosis and treatment of every form of lung cancer, which includes mesothelioma. Patients who suffer from mesothelioma usually contract the disease due to long-term exposure to asbestos. Symptoms can take many years to make an appearance. Also, it's often difficult to diagnose because signs of this disease may be similar to other forms of cancer.
However, DCI has a wide range of nationally and internationally known lung cancer experts and the technology to help patients with mesothelioma. These specialists have extensive experience diagnosing, determining personalized treatment plans and providing targeted care to lung cancer and mesothelioma patients.
Depending on the disease's severity, treatment options could include medical therapy such as chemotherapy courses and medication, radiation therapy, which is used for every stage of lung cancer, and the most advanced surgical techniques that are designed to ensure healthy organs receive the least amount of harm possible.
DCI also relies on research to discover the latest and most effective approaches to help patients with mesothelioma. With more than 300 researchers and physicians and 500 clinical staff members, DCI maintains a commitment to cancer research and its efficient transfer to the patients who need specialized cancer care. Currently, there are approximately 250 clinical trials available to patients who would benefit from alternative therapies.
Mesothelioma specialists at Duke Cancer Institute include Dr. David H. Harpole, Jr., an Associate Professor of Surgery and Assistant Professor of Pathology.  He is also the Director of Lung Cancer Prognostic Research Laboratory at Duke and Chief of Cardiothoracic Surgery at Durham Veterans Affairs Medical Center.  Dr. Harpole focuses his research on mesothelioma, general thoracic surgery, advanced airway and thoracoscopic surgery, benign and malignant disease of the lung, esophagus and mediastinum; esophageal cancer, oncology, and hyperhidrosis palmaris.
Source: http://www.dukehealth.org/cancer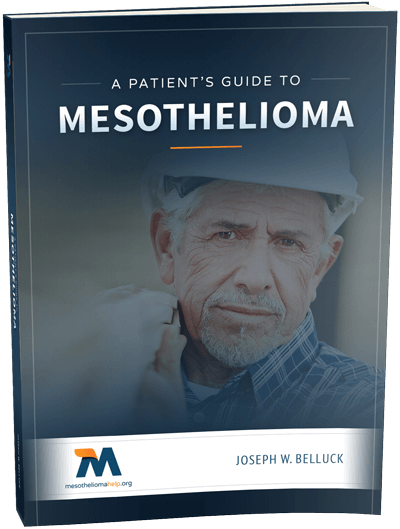 Free Mesothelioma Patient & Treatment Guide
We'd like to offer you our in-depth guide, "A Patient's Guide to Mesothelioma," absolutely free of charge.
It contains a wealth of information and resources to help you better understand the condition, choose (and afford) appropriate treatment, and exercise your legal right to compensation.
Download Now