The Mount Sinai Hospital
Background
Mount Sinai Health System is a comprehensive group of hospitals located in New York City, including Manhattan, Brooklyn, and Queens. The Mount Sinai Hospital and Icahn School of Medicine are both located on a campus in Manhattan's Upper East Side, from East 98th to 102nd Streets between Madison and Fifth Avenues.
The Tisch Cancer Institute is located in the Icahn School of Medicine on the Mt Sinai campus, inside the new Hess Center for Science and Medicine at 1470 Madison Avenue, one block north of Mt. Sinai Hospital. Outpatient therapy for cancer patients is provided in the Hess Center, at the Ruttenberg Treatment Center. Inpatient treatment is in Mount Sinai Hospital.
The Ruttenberg Treatment Center treats all cancer patients except those with breast cancer, who go to the Dubin Breast Center. At Ruttenberg, patients are assigned to a care team including oncologists, physician assistants, nurse practitioners, social workers, a nutritionist, and a patient experience manager. All have specialized oncology training. Patients can enroll in clinical trials and research studies for a range of cancers.
Mount Sinai's Lung Cancer program is part of the Tisch Cancer Institute and is known for its focus on complex cancers, including mesothelioma. The Lung Cancer Program is hailed for developing lung screening protocols used around the world to diagnose and treat lung cancers:
Low-dose CT scanning takes a detailed picture of an internal organ.
Molecular testing helps determine the type of cancer.
Bronchoscopy is a procedure that lets a doctor see inside airways and lungs.
Endobronchial ultrasound uses ultrasound along with the bronchoscope to send sound waves to identify additional damage and, if necessary, take a tissue sample for more study. This used to be possible only through surgery.
The Lung Cancer surgical team are experts in performing complex procedures designed to preserve the lung or remove it with as little complication as possible:
Extra pleural pneumononectomy removes a diseased lung and parts of or all other badly damaged organs.
Sleeve lobectomy removes diseased lung tissue and attached air passages and reconnects the passage to preserve lung function.
Pleurectomy/Decortication removes diseased lung lining.
Mesothelioma Treatments
The Mount Sinai Hospital Tisch Cancer Institute is situated to provide the latest research developments to provide improved cancer treatment options. Treatment at Mount Sinai focuses on developing a personalized treatment plan for each patient accounting their age, lifestyle, and general health to treating the patient, not the disease. Not all patients will benefit from the most aggressive treatment. Treatment plans reflect the best projected outcomes for the patient and his or her own wishes.
Mount Sinai's mesothelioma team is headed by Raja Flores, MD, Chief of Thoracic Surgery. Dr. Flores develops and perfects surgical procedures for each patient given the extent of the disease. Surgery does not center on removing a lung, for example, but a damaged lining or section and preserving the lung, such as a pleurectomy/decortication, which removes only the lining of the lung and spares the organ itself. A lung is removed when it is so damaged it no longer functions.
Dr. Flores' surgical techniques are less invasive than standard surgeries. Instead of opening the chest wall, he uses VATS (video-assisted thoracic surgery) so there are only three small incisions in the chest. This method reduces postoperative complications like infection and lets patients return home sooner.
Dr. Flores established the approach to complement mesothelioma surgery with drug treatment (chemotherapy) to ensure the cancer is completely removed from the body. This approach, called intraoperative chemotherapy, is used with radiation treatment. Mount Sinai's Kenneth Rosenzweig, MD, is, in Dr. Flores' words, a "pioneer in figuring out the type of radiation" for each patient who has undergone surgery. Dr. Rosenzweig is a world-renowned expert in using radiation to treat mesothelioma. By combining surgery with the right amounts of radiation and chemotherapy, Dr. Flores and his team give patients the best possible treatment and outlook for their individual cases.
You can search for a provider near you through our network database of Mesothelioma Doctors & Hospitals.
Source: http://www.mountsinai.org/lung-cancer/about-lung-cancer/about-mesothelioma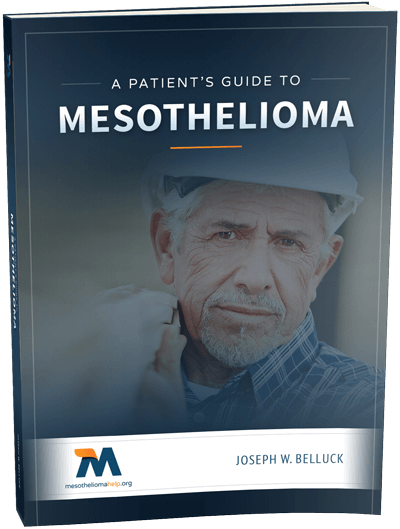 Free Mesothelioma Patient & Treatment Guide
We'd like to offer you our in-depth guide, "A Patient's Guide to Mesothelioma," absolutely free of charge.
It contains a wealth of information and resources to help you better understand the condition, choose (and afford) appropriate treatment, and exercise your legal right to compensation.
Download Now