West Virginia University Hospitals
 Background
West Virginia University (WVU) Hospitals is a non-profit corporation that operates the teaching hospitals of West Virginia University. The hospitals in this health care corporation include Ruby Memorial Hospital, WVU Children's Hospital, the Mary Babb Randolph Cancer Center (MBRCC), the Jon Michael Moore Trauma Center and Chestnut Ridge Center in Morgantown.
In addition, WVU University Hospitals has two other facilities in the Eastern Panhandle of West Virginia. The hospitals are City Hospital in Martinsburg and Jefferson Memorial Hospital in Ransom, jointly operated as West Virginia University Hospitals (WVUH)-East.
In 1960, the hospital's original facility was constructed. Today it's the Health Sciences Building, and it is considered the central academic teaching facility of the Robert C. Byrd Health Sciences Center of West Virginia University (WVU). In 1986, West Virginia University Hospitals, Inc. started to build its current facility, Ruby Memorial Hospital, which is a 10-story, 500,000-square-foot facility in operation since 1988. Ruby Memorial is a tertiary care referral center and is used as the principal clinical education and research site for the WVU School of Medicine.
Ruby Memorial manages the 92-bed WVU Children's Hospital, home to a 30-bed newborn intensive care unit. The Jon Michael Moore Trauma Center, which is also part of Ruby Memorial, is the only nationally certified Level I Trauma Center in West Virginia and serves a significant amount of people in that area.
In 1998, WVU purchased Chestnut Ridge Hospital, a 70-bed psychiatric inpatient facility built in 1987 and located near Ruby Memorial. Chestnut Ridge now functions as a department of the hospital and houses WVU's Department of Behavioral Medicine and Psychiatry.
In 2003, WVU completed a strategic plan designed to expand the hospital's facilities. This project included an additional 58 medical and surgical beds, 10 adult intensive care beds, 4 pediatric intensive care beds, 2 outpatient operating rooms and 4 inpatient operating rooms. This expansion was completed at the end of 2005.
Cancer Treatments
Owned and operated by WVU Hospitals, the Mary Babb Randolph Cancer Center (MBRCC) is a cancer facility with a national reputation in treatment, prevention and research. Using a team approach, the center's cancer specialists work together with each patient to determine customized treatment plans. In addition to the most cutting edge therapies and techniques, MBRCC offers new radiation oncology treatments and access to national clinical trials for many forms of cancer.
Recently ranked as the #1 Hospital in West Virginia by the U.S. News and World Report, the center consists of the Betty Puskar Breast Care Center, an American College of Radiology (ACR) designated Breast Imaging Center of Excellence, the Comprehensive Breast Care Program, accredited by the National Accreditation Program for Breast Cancers (NAPBC), Bonnie's Bus – the Bonnie Wells Mobile Mammography Program, which provides the most advanced digital mammography to West Virginia communities, and the Osborn Hematopoietic Malignancy and Transplantation Program, considered the only source for blood and marrow transplants in West Virginia.
MBRCC has received a rank of 74 in the country by U.S. News and World Report. The magazine's detailed investigation stated that MBRCC has a "much higher than expected" success rate compared to other cancer centers in the nation.
WVU's Clinical Trials Research Unit (CTRU) offers the support and expertise that researchers need to conduct clinical trials and discover new information about the biomedical sciences. As the state's premier research institution, the CTRU physicians cover a wide range of medical disciplines. Specialists at CTRU provide high quality patient care and precise research, serving a large population of rural patients in West Virginia.
MBRCC has an extensive thoracic surgery department. Board-certified thoracic surgeons are specially trained to carry out surgical procedures for mesothelioma and other types of thoracic cancers and diseases. These techniques are minimally invasive and use video-assisted thoracoscopic surgery (VATS).
The Sara Crile Allen and James Frederick Allen Comprehensive Lung Cancer Program at the MBRCC is located at WVU's Robert C. Byrd Health Sciences Center. Experts in the fields of cardiothoracic surgery, medical oncology, pulmonary medicine, radiation oncology, diagnostic radiology and pathology apply their specialized knowledge to treat patients with various forms of lung disease. The multidisciplinary approach uses both invasive and noninvasive diagnostic procedures and therapies that are personalized for each patient's circumstances. PET/CT imaging is another tool these cancer physicians utilize to diagnose and determine an exact prognosis. The center's aggressive methods have improved the survival rate for patients at this facility.
Patients can be diagnosed and treated at MBRCC at any point. Comprehensive consultations are part of the process of understanding each patient's specific stage of mesothelioma. Support services are also accessible for patients and their families so that they can find productive ways to manage their health conditions. Services include pulmonary rehabilitation, nutritional advice, and financial aid.
Visit our Mesothelioma Doctors & Hospitals finder.
Source: https://www.wvu.edu/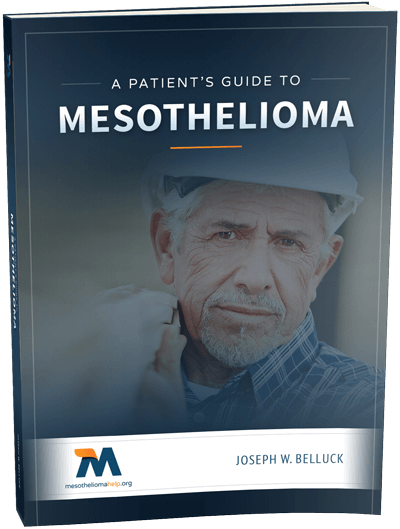 Free Mesothelioma Patient & Treatment Guide
We'd like to offer you our in-depth guide, "A Patient's Guide to Mesothelioma," absolutely free of charge.
It contains a wealth of information and resources to help you better understand the condition, choose (and afford) appropriate treatment, and exercise your legal right to compensation.
Download Now