Progress in Treatment Comes from Past Experiences
When patients and families are beginning their journey with mesothelioma, it is hard not to get discouraged when looking at survival statistics. The statistics are often interpreted as devastating, but, keep in mind that they are just that: statistics. Progress in the treatment of mesothelioma is being made slowly.
I have taken care of mesothelioma patients for years throughout their journey, whether that be in the intensive care unit, before their surgery, after their surgery, non-surgical patients and during all different phases of the disease. I can put faces and events to the different phases of the mesothelioma journey. And I still remember one patient from years ago who shows us how progress in mesothelioma care has been made, and how important it is to get to a mesothelioma treatment center.
Years ago, this man in his early 50s, who had worked in shipyards and was diagnosed with mesothelioma, traveled from out of state for specialized care for his mesothelioma. He had surgery, and was recovering well, but while still in the hospital he developed a blood clot that went to his lung, a pulmonary embolus. He became acutely short of breath and despite immediate medical intervention he died. It was a devastating complication, and he is still remembered by those who took care of him. Treatment has changed now, and it was by learning from the treatment of other mesothelioma patients that it has improved.
Now, in 2017, when any mesothelioma patient has surgery they are placed in pneumatic boots, that compress the legs to avoid blood clots. Patients routinely undergo non-invasive ultrasounds of their extremities to look for any blood clots on postoperative day seven. Walking is emphasized before and after surgery. If a patient has to stay in bed, they are placed on an anti-coagulant subcutaneous injection to help prevent any clots. Clots are screened for, and aggressively treated if detected.
This week, a mesothelioma specialist gave a talk and he referenced how important it is to come to a mesothelioma center. Although progress is being made, it is probably not fast enough for anybody. Yet, we have learned and progressed, and treatment is constantly being analyzed and perfected.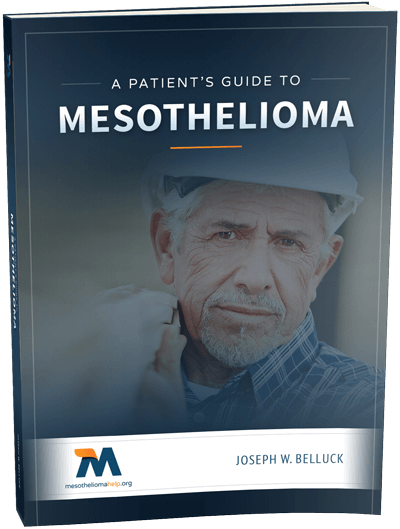 Free Mesothelioma Patient & Treatment Guide
We'd like to offer you our in-depth guide, "A Patient's Guide to Mesothelioma," absolutely free of charge.
It contains a wealth of information and resources to help you better understand the condition, choose (and afford) appropriate treatment, and exercise your legal right to compensation.
Download Now