Mesothelioma Patients Housing Option During Treatments by Hope Lodge
When it was decided that it was time for Dad to have some further treatment, we put everything in God's hands.  The recommendation was 25 radiation treatments, over a course of 5 weeks, that would take place in New York City with Dr. Kenneth Rosenzweig of Mount Sinai Medical Center.  Being away for such a long period of time is quite an undertaking, and we expected the monetary costs to be enormous.  That was until we heard about Hope Lodge.
Hope Lodge is an amazing, beautiful facility funded by the American Cancer Society.  They are located throughout the country and provide a free place to stay for people undergoing cancer treatment.  There are strict criteria that must be met in order to be eligible, but we are blessed that Dad was accepted.
I must admit, my family was initially quite apprehensive about the Hope Lodge.  When you hear that there is a free place to stay in NYC, you can't be sure what to expect.  Walking through the doors, we were pleasantly and completely surprised.  We were greeted by wonderful volunteers and staff members who gave us a tour of the Lodge.
The sixth floor is the family floor equipped with a full kitchen, fireplace, entertainment center, and plenty of seating to visit with family and friends.  There is a room for children, games for everyone's use, a computer lab, meditation room, and library.  It is a wonderful, calming atmosphere.  This space is also used for events held by Hope Lodge.  In the time my parents have been there, among other things, there has been a 100th birthday party for the American Cancer Society, dinners, games, and music, free to all guests and their families.
On this floor, there is also a balcony with plenty of space to sit outside and eat or relax.  Looking to your left you see Madison Square Garden, with the Empire State Building to the right.  There is a staff member on the sixth floor 24-hours-a-day to help you with any needs you may have.  They are so kind and knowledgeable about the Lodge and area, and they are a great resource and friend to the guests.
We helped my family move into their beautiful, spacious room with a great view!  They have their own bathroom and there is laundry and a full kitchen on every floor.  These floors are only for the patient and their caregiver, allowing for a quiet, restful environment while you are receiving treatments.
My family has benefitted greatly from the services offered by the Hope Lodge.  It is truly a Godsend and has made a tremendous difference in many lives.  The Hope Lodge allows patients to receive lifesaving treatment they may not have been able to receive otherwise.  God bless all those involved in the Hope Lodge program, and thank you on behalf of all families and patients you've encountered!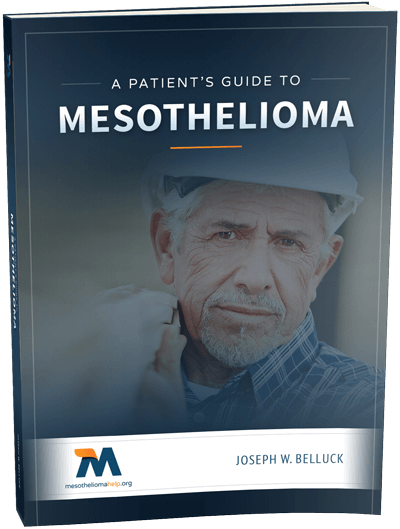 Free Mesothelioma Patient & Treatment Guide
We'd like to offer you our in-depth guide, "A Patient's Guide to Mesothelioma," absolutely free of charge.
It contains a wealth of information and resources to help you better understand the condition, choose (and afford) appropriate treatment, and exercise your legal right to compensation.
Download Now