What Are Clinical Trials and How Can They Advance Treatment?
COVID-19 has impacted our daily lives throughout the U.S. This previously unknown virus that has caused the pandemic we are currently in has scientists all over the world researching for a cure.
The virus is educating a lot of people about the clinical trial process. As scientists race to find a cure for this deadly virus, the process that is in place for approval for new medications, treatments, and vaccinations is being questioned. Why does it take so long? Why is participation so low?
Patients, family members, and experts who are dealing with malignant mesothelioma know that the process to improve therapy leading to a cure is slow. There are requirements as the process is rigorous with defined stages, criteria, and approvals.
One of the challenges of conducting a clinical trial is to get participation in the trial. All participation is voluntary and can be withdrawn at any time. It is estimated that less than 5 percent of all adult patients diagnosed with cancer participate in clinical trials. Some of the reasons people give for not participating are:
Lack of awareness, patients didn't know about it.

They don't think they qualify.

Fear and safety involved.

The inconvenience of location or added responsibilities.

Confusion over whether it is covered by insurance.
It is reported that 25 percent of cancer trials failed to enroll a sufficient number of patients, and 18 percent of trials closed with less than half the targeted enrollment.
Research from 2019 gives another perspective. The article published in the Journal of the National Cancer Institute in March of 2019 written by Unger JM, Validya R, Hershman DL, et al  did a systematic review and analysis of the structural, clinical, and physician and patient barriers to cancer clinical trial participation. Their findings in a study funded by the National Cancer Institute included that:
55.6 percent of patients did not participate in a trial because no trial was available for their type or stage of cancer at their treatment center.

21.5 percent of patients were ineligible due to criteria that did not include them such as co-morbidities.

22.9 percent of patients had physician and patient related barriers, such as not being asked to participate or refusing by the patient.
As we continue to live through this pandemic and people are becoming more aware of the clinical trial process, there are reports of up to 16,000 people – mostly young – that have offered to participate in the development of a vaccine. They are volunteering to be given the vaccine and then exposed to the coronavirus as part of a study to evaluate a vaccine that is still in the experimental phase.
COVID-19 has changed our lives. Hopefully a new awareness of the opportunity to participate in clinical trials for all diseases will be one of the positive results that comes from the pandemic.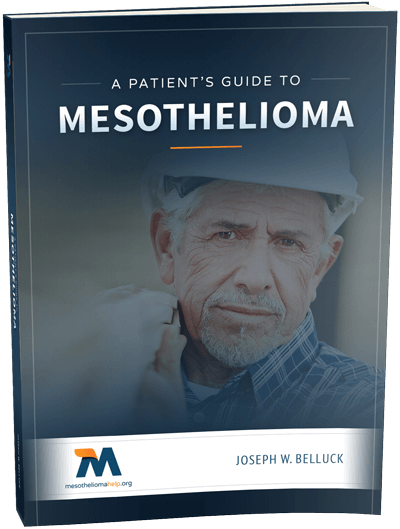 Free Mesothelioma Patient & Treatment Guide
We'd like to offer you our in-depth guide, "A Patient's Guide to Mesothelioma," absolutely free of charge.
It contains a wealth of information and resources to help you better understand the condition, choose (and afford) appropriate treatment, and exercise your legal right to compensation.
Download Now