DOD Continues to Allocate Millions to Mesothelioma Research
The U.S. House of Representatives recently passed the fiscal year 2017 Defense Appropriations bill and kept mesothelioma-eligible funding for 2017. Mesothelioma was first funded through the bill in 2011 and has been on the list every year since then.
The funding is available as part of the DOD's Peer Reviewed Cancer Research Program (PRCRP). The DOD Appropriations Bill, 2017, which was submitted on May 19, allocates $30 million for distribution among eligible cancers through the PRCRP. In addition to mesothelioma, other cancers sharing in these research funds include: bladder cancer, brain cancer, colorectal cancer, listeria vaccine for cancer, liver cancer, lymphoma, melanoma and other skin cancers, pancreatic cancer, stomach cancer, and cancer in children, adolescents, and young adults.
An additional $12 million is set aside specifically for the lung cancer research program. The bill provides a total of $282 million for cancer research.
The Defense Appropriations bill funds critical national security needs, including military operations and readiness programs, as well as health and quality-of-life programs for U.S. troops and their military families. The PRCRP grants are offered with a goal to improve quality of life by decreasing the impact of mesothelioma cancer on service members, their families, and the American public. The entire bill provides $517.1 billion in funding.
"This bill fulfills the Congress's most important responsibility – providing for the common defense. And it does so responsibly – funding those military needs that must be addressed now, planning and preparing for the future, and respecting the taxpayer by making commonsense budgeting decisions," Chairman Hal Rogers said in the June 16th press release announcing the House's passage of the bill.
http://appropriations.house.gov/news/documentsingle.aspx?DocumentID=394614
The DOD is responsible for funding and promoting research on diseases related to military service. Veterans account for nearly 30 percent of all cases of mesothelioma, a cancer of the lining of the lung or abdomen, caused by exposure to asbestos. Former military troops have a higher risk of contracting asbestos-related diseases because of the wide use of asbestos in thousands of buildings and Navy ships from World War II until the 1970s.
"The Committee commends the Department of Defense for ensuring that projects funded through the various peer-reviewed cancer research programs maintain a focus on issues of significance to military populations and the warfighter," noted the Committee members in the bill report. "This includes promoting collaborative research proposals between Department of Defense researchers and non-military research institutions. These collaborations leverage the knowledge, infrastructure, and access to clinical populations that the partners bring to the research effort."
Close to 3,000 Americans are diagnosed with mesothelioma each year. There is no cure for the cancer.
Sources:
Peer Reviewed Cancer Research Program
http://cdmrp.army.mil/prcrp
Committee members in the bill report
https://www.congress.gov/114/crpt/hrpt577/CRPT-114hrpt577.pdf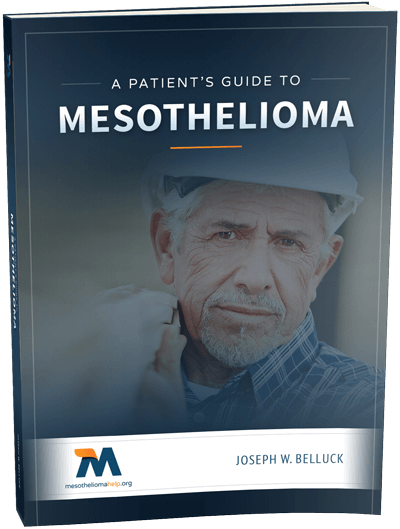 Free Mesothelioma Patient & Treatment Guide
We'd like to offer you our in-depth guide, "A Patient's Guide to Mesothelioma," absolutely free of charge.
It contains a wealth of information and resources to help you better understand the condition, choose (and afford) appropriate treatment, and exercise your legal right to compensation.
Download Now