BAP1 Gene Research Opens Door to Mesothelioma Clinical Trial
For years, Michele Carbone, MD, PhD, and a team of researchers from the University of Hawaii Cancer Center have focused their mesothelioma research on the BAP1 gene. The researchers suspected that mutations of the BAP1 gene, which is involved in tumor suppression, might underlie mesothelioma in people with a strong family history of the disease. Now, in a recent study, the team has uncovered the mechanism behind the gene and what makes people with it more susceptible to developing cancers from environmental carcinogens, such as asbestos.
The researchers found that the BRCA1-associated protein 1, or BAP1, regulates a channel (IP3R3) inside cells that moves calcium. When the BAP1 gene is damaged, calcium levels decrease leaving the cells more apt to become malignant after environmental carcinogen exposure, according to June 14 press release from the University of Hawaii Cancer Center.
The study also led to the discovery in mouse models that this same effect left the cancer cells resistant to chemotherapy. Mesothelioma cells have an uncanny ability to fight off even the most toxic anti-cancer agents, allowing the cancer cells to spread and thrive.
Mesothelioma, a cancer caused by past asbestos exposure, is diagnosed in nearly 3,000 Americans each year. These people are faced with a long road of ups and downs after a seemingly successful cycle of chemotherapy ultimately fails and the cancer returns. Due to the aggressiveness of the cancer and its resistance to treatments, mesothelioma oncologists then turn to another chemotherapy to again attempt to quash the cancer.
Once the UH researchers found the "why" behind BAP1 the team turned to finding the "how" to fix the channel that can effectively lead to apoptosis, or death of the cancer cells, when treated with chemotherapy or other anti-cancer therapies. Once BAP1 levels are restored and the calcium channels are stabilized, treating cancer patients with the BAP1 mutation, and potentially preventing cancer in the first place, is feasible, according to the report. A clinical trial is in the works to test the findings.
"We want to prevent and treat cancer in as many people as possible," said Dr. Carbone. "We hope to start a clinical trial, within five years or less, to test the susceptibility to chemotherapy in patients with BAP1 mutated tumors."
Carbone notes that close to 20 percent of all cancers have BAP1 mutations, including 70 percent of mesothelioma cases and 90 percent of eye melanomas.
According to the National Institutes of Health, clinical trials are at the heart of all medical advances. Clinical trials serve to uncover better ways to treat, prevent, diagnose and understand human diseases. They provide mesothelioma researchers with critical information needed to allow them to move their findings from the lab to patients. They also offer patients access to a treatment that might not otherwise be available.
"I very much hope that our discovery will help save many lives," said Angela Bononi, co-author of the study and post-doctoral fellow in Carbone's lab.
Find the full study in the June 22, 2017 issue of Nature.
Know more about Mesothelioma and how you can deal with it.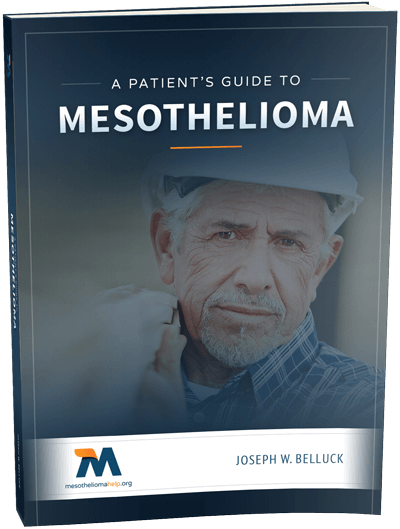 Free Mesothelioma Patient & Treatment Guide
We'd like to offer you our in-depth guide, "A Patient's Guide to Mesothelioma," absolutely free of charge.
It contains a wealth of information and resources to help you better understand the condition, choose (and afford) appropriate treatment, and exercise your legal right to compensation.
Download Now