Indiana University Health | Melvin and Bren Simon Cancer Center
Background
The Indiana University Cancer Center was established in 1992 and was later rededicated as Melvin and Bren Simon Cancer Center upon an endowment from Mel and Bren Simon in 2006. In 1999, due to its focus on patient care, basic and clinical research, prevention, education, outreach and training, the IU Simon Cancer Center achieved the Cancer Center designation by the National Cancer Institute.
The IU Simon Cancer Center is affiliated with the clinical and medical research departments and medical school at Indiana University as well as with the Purdue University Cancer Center research facility. IU Simon Cancer Center and IU Medical School established the Indiana Cancer Consortium in collaboration with the American Cancer Society-Great Lakes Division and the Indiana Department of Health to spearhead cancer screening access and prevention programs.
Indiana University and the IU Simon Cancer Center have been the sites of several milestone achievements in cancer research. Among these achievements include pioneering life-saving and novel chemotherapy drugs for testis cancer and the first-ever umbilical cord stem cell transplant.
Each year, IU Simon Cancer Center receives millions of dollars in funding from the NCI and extramural resources combined and employs over 200 clinicians in cancer research in its 405,000-square-foot patient care facility. The U.S. News and World Report ranks IU Simon Cancer Center as #32 nationally.  It is also recognized as the best hospital in Indiana.
Mesothelioma Treatments
The IU Simon Cancer Center is situated to offer the latest research developments to provide improved cancer treatment options. The integrated research environment provides collaboration of laboratory scientists and physicians within clinical, translational, and prevention research studies. With regard to lung cancer, IU Simon Cancer Center organizes teams of highly skilled staff to facilitate treatment. After referral or diagnosis by a primary care physician, a team of pathologists, surgical and medical oncologists, thoracic surgeons, nurses and social workers will handle a case together.
IU Simon Cancer Center has extensive expertise in the multi-modal treatment of mesothelioma. Several specific, innovative treatments are being researched in addition to the comprehensive cancer treatments listed below. These include in vitro chemosensitivity testing, drug analysis, and combinational treatment approaches to cure cancer.
Radiation oncology, surgical oncology, clinical trials, chemotherapy, palliative care, state-of-the-art diagnostics and imaging services, bone marrow transplants, stem cell transplantation, pathology, genetic counseling, hormone therapy, biological therapy, complementary and alternative medicine, nutrition and physical therapy, support groups, and comprehensive and preventive care are all options in IU Simon Cancer Center's cancer treatment program. Surgical and diagnostic innovations include pathology that is examined for gene expression patterns that lead to more effective and specialized treatment options.
Find other Mesothelioma Doctors & Hospitals Here.
Source : http://www.cancer.iu.edu/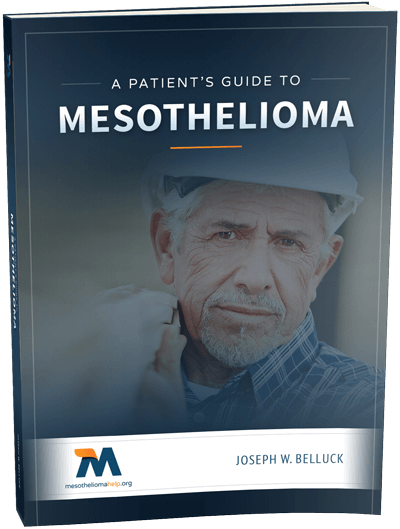 Free Mesothelioma Patient & Treatment Guide
We'd like to offer you our in-depth guide, "A Patient's Guide to Mesothelioma," absolutely free of charge.
It contains a wealth of information and resources to help you better understand the condition, choose (and afford) appropriate treatment, and exercise your legal right to compensation.
Download Now