WT-1 Vaccine Granted Fast Track Designation for Pleural Mesothelioma
Mesothelioma Help has reported several times on the positive results realized in pleural mesothelioma clinical trials with the WT-1 vaccine. In June, we reported on the "exciting results" from two separate phase II clinical trials for the drug for the treatment of acute myeloid leukemia and malignant pleural mesothelioma. Now, the U.S. Food and Drug Administration has granted fast-track designation to the drug for pleural mesothelioma.
According to a Sept. 19 press release from Sellas Life Sciences Group, the maker of the drug, the FDA granted the status to galinpepimut-S following results of the phase II trial that showed median overall survival was 24.8 months in patients treated with the WT-1 vaccine compared with just 16.6 months in mesothelioma patients who did not receive the treatment. The company reports "survival benefit was even greater" in surgical mesothelioma patients who had the tumors removed and were then treated with galinpepimut-S.
"This fast track designation underscores the importance of galinpepimut-S as a potential treatment option in mesothelioma," said Angelos M. Stergiou, MD, vice chairman and CEO of SELLAS Life Sciences Group. "We are excited to begin the pivotal Phase 3 trial in patients with MPM [malignant pleural mesothelioma] in the second half of 2017 and expect the Fast Track designation to expedite the time to market, thereby enhancing the value proposition of galinpepimut-S in this indication."
The fast track designation from the FDA is a process designed to facilitate the development, and expedite the review of drugs to treat serious conditions and fill an unmet medical need. The purpose is to get important new drugs to the patient earlier, according to the FDA. The agency looks at  whether the proposed drug will have an impact on such factors as survival, day-to-day functioning, or the likelihood that the condition, if left untreated, will progress from a less severe condition to a more serious one.
Anne Tsao, M.D., Director of the Mesothelioma Program and the Thoracic Chemo-Radiation Program at The University of Texas MD Anderson Cancer Center, reports through Clinical Care Options online curriculum, that the WT-1 vaccine is one of the up and coming treatments for mesothelioma to keep an eye on. She explains that WT-1, the Wilms tumor protein, is found on mesothelioma cell surfaces making it "an excellent target for immunotherapy." Galinpepimut-S is a late clinical-stage immunotherapy.
Don Smitley, whose battle with mesothelioma has been chronicled by his daughter Jennifer Gelsick in "Faces of Mesothelioma," was a participant in the WT-1 clinical trial at Memorial Sloan Kettering. Smitley and his family remained positive throughout the trial and the family continues to Encourage Mesothelioma Patients to participate in mesothelioma trials.
"I believe that we are so close to finding a cure, and the doctors and other researchers we have been so fortunate to work with are among those vitally instrumental in this crusade," says Jennifer. "Don't be afraid to step outside of your comfort zone of home and travel for these amazing treatments."
"Galinpepimut-S is demonstrating its potential as an anti-cancer agent, with outstanding results regarding survival, immunological responses, and safety in AML and MPM patients," said Dr. Stergiou.
Read about the WT-1 trial results.
Sources :
Sellas Life Sciences Group
http://sellaslifesciences.com/2016/06/sellas-life-sciences-announces-exciting-results-for-galinpepimut-s-the-companys-wt1-vaccine-in-patients-with-acute-myeloid-leukemia-aml-and-malignant-pleural-mesothelioma-mpm-as-prese/
fast track designation from the FDA
http://www.fda.gov/ForPatients/Approvals/Fast/ucm405399.htm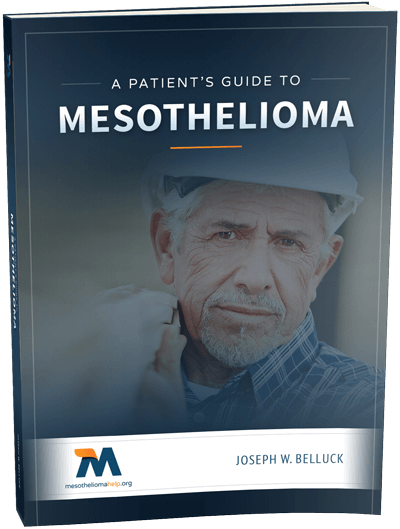 Free Mesothelioma Patient & Treatment Guide
We'd like to offer you our in-depth guide, "A Patient's Guide to Mesothelioma," absolutely free of charge.
It contains a wealth of information and resources to help you better understand the condition, choose (and afford) appropriate treatment, and exercise your legal right to compensation.
Download Now