Mesothelioma Patients are encouraged to Seek Care for PTSD
Many people who have been diagnosed with a serious illness, including mesothelioma, will experience PTSD. Post traumatic stress disorder is triggered by a traumatic event. It can be described as a kind of anxiety. The person or patient who experiences this can experience a feeling of helplessness, fear or shock. Many who have experienced a traumatic event will heal with time and through healthy coping methods.
According to the National Health Service in the United Kingdom, 40% of sufferers develop PTSD after a loved one dies suddenly. The most common symptoms of PTSD are nightmares, frightening thoughts, sweating, shaking , refusal to discuss the event, reduced interest in life and feeling numb emotionally and mentally.
A life threatening illness like mesothelioma can cause PTSD. Many medical professionals  are becoming aware of this phenomenon and are setting up support groups for patients and caregivers. The symptoms usually develop within three months of the event. It can occur several months later or even years later.
If you are experiencing PTSD symptoms that last more than one month, you should seek medical attention. Patients need to seek PTSD care because their stress and anxiety could inhibit them from getting proper mesothelioma treatment or follow up care. The more intensive the treatment plan for mesothelioma, the higher the risk patients have of developing PTSD.
One of the top mesothelioma centers in the U.S. is in the process of setting up a support group and a clinic specifically for patients who need support for this type of PTSD. Often treatment includes psychotherapy. There are counselors who specialize in helping patients and their caregivers dealing with cancer.
Counselors cannot always solve the issues, but they can provide a safe place for people to discuss their issues. Depression, relationship issues, financial and emotional concern, and managing cancer symptoms and side effects, such as pain and fatigue, are some of the real concerns that can be discussed.
The key is to get treatment for your mesothelioma, but to also take care of your whole self. Living with cancer is a big challenge, and often a few conversations with a counselor can be helpful.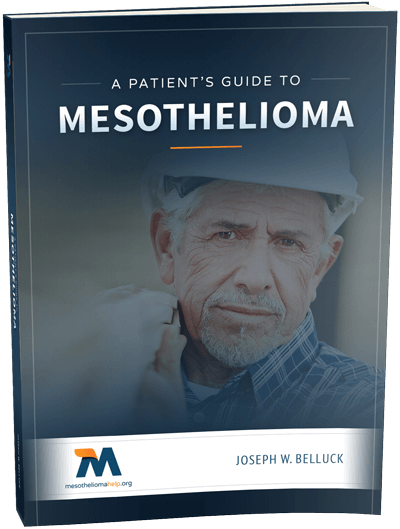 Free Mesothelioma Patient & Treatment Guide
We'd like to offer you our in-depth guide, "A Patient's Guide to Mesothelioma," absolutely free of charge.
It contains a wealth of information and resources to help you better understand the condition, choose (and afford) appropriate treatment, and exercise your legal right to compensation.
Download Now