Blood Samples May be Reliable Monitoring Tool for Patients
In January, Mesothelioma Help reported about a business venture by a San Diego-based company focused on developing a blood test to detect cancers that can be conducted in doctors' offices. Now, another company reports that liquid biopsies, another term for the blood tests, can be used to monitor lung cancer patients' response to treatment in real-time.
Researchers from the German Cancer Research Center (DKFZ), report that oncologists have come to rely on tissue biopsies as a way to manage a lung cancer patient's treatment and to assess their progress. However, "tissue biopsy is much more invasive, and in some cases a risky procedure," they report.
So the researchers delved deeper into the pros of liquid biopsies to help ease pain for patients and to improve the success rates of treatments for oncologists. What they found is that blood tests can be "a promising tool to monitor lung cancer patient tumors early."
They reviewed the blood samples of 16 EGFR-positive lung cancer patients undergoing tyrosine kinase inhibitor treatment (erlotinib, gefitinib, or afatinib). Over the course of the two-year study the researchers were able to attribute three major categories of treatment to the changes in the circulating tumor cells: evidence for therapy response, periods of stable disease, and impending tumor progression.
"These findings highlight liquid biopsy's sensitivity in detecting and reflecting tumor changes in real time, while providing the advantages of being less invasive," said the authors.
The use of biopsy when determining the efficacy of a treatment was previously discussed by a panel of oncologists on OncLive's Peer Exchange Series. The oncologists agreed that biopsy results can be used to not only diagnose cancer but to drive a cancer patient's treatment plan. Anne S. Tsao, MD, Director, Mesothelioma Program, The University of Texas MD Anderson Comprehensive Cancer Center, said oncologists should use biopsies to "shoot for genetic testing and personalized medicine for treatment decisions."
The DKFZ researchers explained that when tumor cells die after treatment they release their DNA (or cell free DNA, cfDNA), with all its mutations still intact, into the bloodstream. The team found that blood samples, or cfDNA, are as effective as tissue biopsies when assessing prognosis in EGFR-positive lung cancer patients.
Professor Holger Sültmann, one of the lead authors, cautions that more work remains to be done, saying, ''This is a 'proof of concept', we should really collect and measure cfDNA more systematically in order to learn what the liquid biopsy can do under these circumstances, and to fully comprehend the principles of lung cancer progression.''
EGFR is a protein found on the surface of some cells to which epidermal growth factor binds, which causes the cells to divide and spread. It is found at abnormally high levels on the surface of many types of cancer cells, including more than 50% of pleural mesothelioma patients. Tyrosine kinase inhibitors work by blocking the activity of the EGFR tyrosine kinase enzyme, preventing the growth of new blood vessels that tumors need to grow, and, potentially, killing cancer cells.
Pleural mesothelioma is a cancer of the lining of the lungs caused by past asbestos exposure. The cancer is diagnosed in close to 3,000 Americans each year.
See the Sept. 19 issue of Scientific Reports for the study.
Sources 
Scientific Reports
http://www.nature.com/articles/srep23489
German Cancer Research Center
https://www.dkfz.de/en/presse/pressemitteilungen/2016/dkfz-pm-16-39-Liquid-Biopsy-Level-of-mutated-DNA-in-the-blood-corresponds-to-patient-outcome.php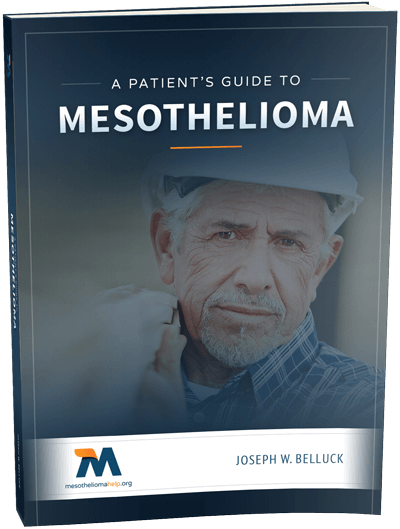 Free Mesothelioma Patient & Treatment Guide
We'd like to offer you our in-depth guide, "A Patient's Guide to Mesothelioma," absolutely free of charge.
It contains a wealth of information and resources to help you better understand the condition, choose (and afford) appropriate treatment, and exercise your legal right to compensation.
Download Now