Afatinib Better Than Gefitinib in Extending Survival for Lung Cancer Patients
In January 2015, Boehringer Ingelheim reported results from clinical trials that showed EGFR-expressed lung cancer patients treated with afatinib saw "significantly extended overall survival" over those treated with chemotherapy." Now, in the latest study, comparing the benefits of afatinib over gefitinib, researchers report afatinib resulted in improved progression-free survival  compared with gefitinib.
An international team of researchers, led by Keunchil Park, MD, of Sungkyunkwan University School of Medicine in Seoul, South Korea, reported that although the three anti-cancer drugs gefitinib, erlotinib, and afatinib, have shown "superior" results to platinum-based doublet chemotherapy, no study has done a comparison between the drugs, according to an April 29 article in Cancer Network.
In the LUX-Lung 7 clinical trial of 319 EGFR mutation-positive lung cancer patients, half of the patients were treated with afatinib and the other half received gefitinib. The researchers reported the afatinib patients realized better progression free survival at 24 months at 17.6% vs. 7.6% in the gefitinib patients. The time-to-treatment failure was also better with afatinib, at 13.7 months vs. 11.5 months with gefitinib, and objective tumor response for afatinib was 70% compared to 56% with gefitinib.
"The improved antitumor activity with afatinib noted in this trial might reflect its more potent and irreversible inhibition of EGFR signaling," the authors wrote. "Our findings suggest that first-generation and second-generation EGFR targeted drugs might not be interchangeable."
In July 2013, the U.S. Food and Drug Administration granted approval to afatinib, a tyrosine kinase inhibitor that blocks proteins that promote the development of cancerous cells, for patients with late stage non-small cell lung cancer whose tumors express specific types of epidermal growth factor receptor (EGFR) gene mutations. The FDA approved gefitinib, also a kinase inhibitor, for the initial treatment of metastatic EGFR-positive non–small-cell lung cancer in July 2015.
EGFR is a protein found on the surface of some cells to which epidermal growth factor binds, which causes the cells to divide and spread. It is found at abnormally high levels on the surface of many types of cancer cells. According to a 2009 article in Current Drug Targets, EGFR over-expression has been shown in more than 50% of pleural mesothelioma patients. The American Society of Clinical Oncology identified approximately 15% of patients with lung cancer in the U.S. expressing EGFR mutations.
Pleural mesothelioma is a rare, serious cancer affecting the lining of the lungs that occurs in individuals exposed to airborne asbestos fibers. Mesothelioma displays as a large mass of interlocked tumors that blend in with healthy tissue, by contrast, lung cancer is characterized by more distinct, individual tumors. However, the treatments for the two cancers are often similar. Any breakthrough or update in research for lung cancer patients equally benefits mesothelioma patients.
"We believe that these data provide additional evidence to help to inform decision making when choosing a first-line treatment for patients with EGFR mutation–positive NSCLC."
For more information on the LUX-7 clinical trial see ClinicalTrials.gov.
https://clinicaltrials.gov/ct2/results?term=%22malignant+mesothelioma%22&recr=Open&pg=1
Results of the study were published in the April 12 edition of The Lancet Oncology.
http://secure.jbs.elsevierhealth.com/action/cookieAbsent
Sources:
Cancer Network
http://www.cancernetwork.com/lung-cancer/afatinib-improves-pfs-vs-gefitinib-egfr-mutated-nsclc
FDA approved gefitinib
http://www.fda.gov/NewsEvents/Newsroom/PressAnnouncements/ucm454678.htm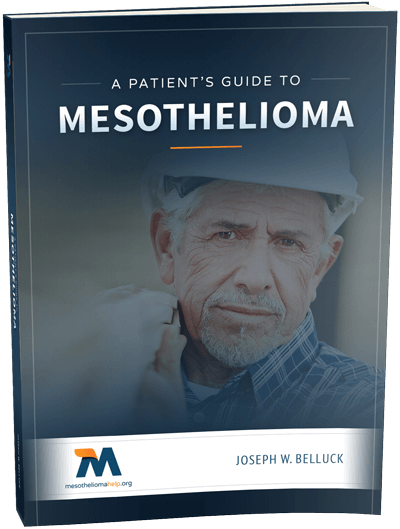 Free Mesothelioma Patient & Treatment Guide
We'd like to offer you our in-depth guide, "A Patient's Guide to Mesothelioma," absolutely free of charge.
It contains a wealth of information and resources to help you better understand the condition, choose (and afford) appropriate treatment, and exercise your legal right to compensation.
Download Now