Mesothelioma Patients to Benefit from Research Confirming Portrazza Improves Survival in EGFR-Expressed Lung Cancer
In December, Mesothelioma Help reported the U.S. Food and Drug Administration approved Portrazza (necitumumab) for first-line treatment of people with metastatic squamous non-small cell lung cancer. Now, researchers confirm necitumumab is most Beneficial to Lung Cancer Patients expressing epidermal growth factor receptor (EGFR).
EGFR is a protein found on the surface of some cells to which epidermal growth factor binds, which causes the cells to divide and spread. It is found at abnormally high levels on the surface of many types of cancer cells, including more than 50% of pleural mesothelioma patients, and approximately 15% of lung cancer in the U.S. Necitumumab blocks the activity of EGFR.
In a report presented April 15 at the European Lung Cancer Conference in Geneva, Switzerland researchers analyzed the results of the SQUIRE Phase 3 clinical trial, designed to determine if necitumumab given in combination with cisplatin and gemcitabine will be more effective than the chemotherapy combination alone. The researchers report the addition of necitumumab to the combination chemotherapy improved overall survival and progression free survival by 21%, over patients who did not receive necitumamab.
The SQUIRE clinical trial did not pre-select patients based on whether they expressed the protein. The researchers, however, drilled in on the subpopulation of patients in the trial, and found that of the 982 patients in the trial, 95% expressed EGFR tumors and just 5% had no EGFR protein. They report that there was no benefit to the necitumumab/cisplatin/gemcitabine combination for patients with negative-EGFR tumors.
"Necitumumab is targeted at EGFR so it makes sense that the drug is active in patients with the receptor," said Dr. Luis Paz-Ares, Chief of medical oncology at the University Hospital 12 De Octubre in Madrid, Spain, lead author. He added, "the drug had no effect when the receptor was absent, presumably because there was no target to bind to."
Necitumumab is prescribed in combination with the chemotherapy drugs gemcitabine and cisplatin for the initial treatment of squamous NSCLC that has metastasized. Mesothelioma patients are also candidates for the drug as the cancer is often treated with the preferred chemotherapy combination of gemcitabine and cisplatin.
Within the standard framework of cancer treatments, chemotherapy is considered the most effective single modality for the treatment of mesothelioma and is likely to be the most commonly deployed treatment as well. However, mesothelioma is a highly aggressive cancer and often fights off the effects of chemotherapy. Finding a way to increase the efficacy of the drugs brings hope to mesothelioma patients.
"Based on this analysis, the European Medicines Agency has decided that necitumumab is approved only for patients with EGFR expressing tumours," said Dr. Luis Paz-Ares.
The FDA did not limit its approval to EGFR-positive patients. Necitumumab was approved in November by the FDA for use in non-small cell lung cancer regardless of the presence of biomarkers. The approval opened up another treatment option for mesothelioma patients.
The researchers report additional research and analysis will be conducted with necitumumab and patient populations.
See ClinicalTrials.gov for information about the SQUIRE clinical trial.
Sources :
European Lung Cancer Conference
http://www.esmo.org/Conferences/Past-Conferences/ELCC-2016-Lung-Cancer/News-Press-Releases/Patients-with-EGFR-Expressing-Non-Small-Cell-Lung-Cancer-Benefit-Most-from-Necitumumab-Added-to-Chemotherapy
SQUIRE clinical trial
https://clinicaltrials.gov/ct2/show/NCT00981058?term=SQUIRE&rank=2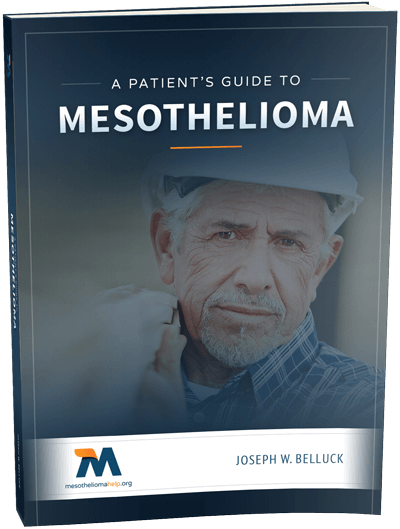 Free Mesothelioma Patient & Treatment Guide
We'd like to offer you our in-depth guide, "A Patient's Guide to Mesothelioma," absolutely free of charge.
It contains a wealth of information and resources to help you better understand the condition, choose (and afford) appropriate treatment, and exercise your legal right to compensation.
Download Now