IMPRINT May Lead to A "New Lung-Sparing Treatment Paradigm"
MesotheliomaHelp has recently reported on two studies showing the benefits of pleurectomy/decortication (P/D) over extrapleural pneumonectomy (EPP) for mesothelioma patients. Now, researchers report that following the surgery with chemotherapy and a novel radiation therapy  is safe and resulted in a reduced rate of radiation pneumonitis.
Researchers from Memorial Sloan Kettering Cancer Center and MD Anderson tested a newly developed hemithoracic intensity-modulated pleural radiation therapy (IMPRINT) in a clinical trial of 27 mesothelioma patients who had undergone P/D and chemotherapy. The radiation therapy specifically targets the lining of the lung, where the mesothelioma cells are, and reduces the risk of damaging the lung itself.
The median progression-free survival and overall survival were 12.4 and 23.7 months, respectively. In addition, the two-year overall survival was 59% in patients with resectable tumors and was 25% in patients with unresectable tumors. Only eight patients developed radiation pneumonitis (grade 2 or 3) and all of them recovered after a dose of steroids.
"These results justify our next multicenter trial to explore the safety and feasibility of hemithoracic pleural intensity-modulated radiation therapy" in more medical centers with experience with this malignancy, the authors wrote, according to a June 21 article in Cancer Network.
Radiation therapy is one of the primary treatments for pleural mesothelioma, an asbestos-caused cancer of the lining of the lungs. However, due to the complex growth pattern of the mesothelioma cancer cells targeting just the diseased cells is difficult. Some oncologists shy away from it since radiation can sometimes be too damaging to surrounding organs, as well as causing damage to the lung (pneumonitis).
The researchers noted that the new technique using IMPRINT "has a significant learning curve, and thus should be exported to other centers slowly and carefully."
P/D strips away the diseased membrane lining the lung and visible mesothelioma tumors, but spares the lung. The other surgical option for pleural mesothelioma patients is the EPP, a more radical procedure that involves removal of a lung, the diseased lining of the chest cavity and heart, and a portion of the diaphragm.
The researchers concluded that incorporating IMPRINT "with chemotherapy and P/D forms a new lung-sparing treatment paradigm for patients with locally advanced MPM [malignant pleural mesothelioma]."
Over 3,000 Americans are diagnosed with mesothelioma each year.
The study can be found in the Journal of Clinical Oncology.
To find out more about the clinical trial see ClinicalTrials.gov.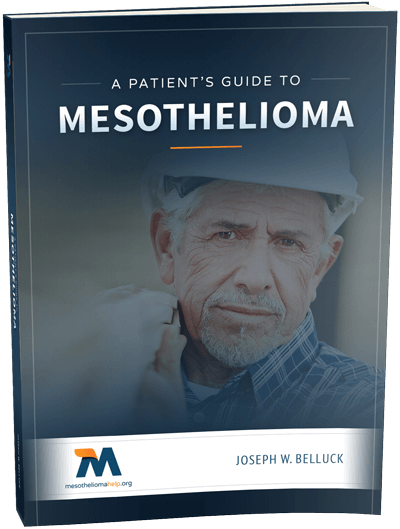 Free Mesothelioma Patient & Treatment Guide
We'd like to offer you our in-depth guide, "A Patient's Guide to Mesothelioma," absolutely free of charge.
It contains a wealth of information and resources to help you better understand the condition, choose (and afford) appropriate treatment, and exercise your legal right to compensation.
Download Now