Early Detection of Mesothelioma Could Someday be Possible Through Simple Urine Test
Researchers and physicians agree that the best way to combat cancer is to detect the disease at its earliest stage, when patients have the most treatment options available to them. Many cancers, including mesothelioma, however, do not have reliable, noninvasive screening methods. Now, researchers report success in detecting cancer through a simple urine test.
According to an article in MIT News, a team led by Sangeeta Bhatia, a member of MIT's David H. Koch Institute for Integrative Cancer Research, has found a way to "amplify" cancer proteins to enhance the ability to detect them. Specifically, the researchers "developed nanoparticles that can home to a tumor and interact with cancer proteins to produce thousands of biomarkers, which can then be easily detected in the patient's urine."
Not only could this process be used to detect cancer, but it is also useful for monitoring disease progression and responsiveness to treatments.
Researchers at both MD Anderson Cancer Center and Massachusetts General Hospital Cancer Center are also in the early stages of developing a cancer detection tool using circulating tumor cells (CTCs). The tests must be highly sensitive to detect such few cells in the bloodstream. These tests, while still in the early phases of testing, can detect lung cancer as well as determine the efficacy of the treatment. The hope is that the tests may also be able to detect mesothelioma.
Although finding CTCs in the bloodstream has been likened to finding a needle in a haystack, the MIT researchers found a process to treat the nanoparticles so that they would accumulate at the tumor site. Hundreds of peptides are then released from the nanoparticles, flooding the bloodstream. They then rapidly accumulate in the kidneys where they are excreted in the urine, and are detected using mass spectrometry.
"There's a desperate search for biomarkers, for early detection or disease prognosis, or looking at how the body responds to therapy," says Bhatia.
This research "is an exciting approach to overcoming the problem of biomarker scarcity in the body," says Sanjiv Gambhir, chairman of the Department of Radiology at Stanford University School of Medicine. Gambhir was not part of the research team.
Mesothelioma is a rare, serious cancer most often affecting the lining of the lungs that occurs in individuals exposed to airborne asbestos fibers. Diagnosing the disease is extremely difficult and many patients are not diagnosed until they exhibit life-threatening complications. Research of this type is needed to help prevent the nearly 3,000 Americans from dying of the disease each year.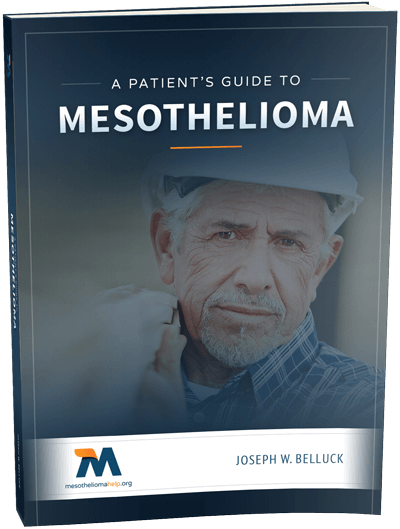 Free Mesothelioma Patient & Treatment Guide
We'd like to offer you our in-depth guide, "A Patient's Guide to Mesothelioma," absolutely free of charge.
It contains a wealth of information and resources to help you better understand the condition, choose (and afford) appropriate treatment, and exercise your legal right to compensation.
Download Now