My Envisioned Medical Practice: Treatment of Mrs. Laura Hill
By: Elena Corina Andriescu
This morning, I have a new patient. She is a 64-year-old retired teacher named Laura Hill and the referral from her PCP says she complains of shortness or breath, chest pain, and coughing. I pull out my stethoscope and warn Mrs. Hill that it might be a little cold as I begin checking her breathing.
As I examine Mrs. Hill, she says "Please call me Laura," and tells me she retired just last year after working in the same elementary school for 35 years. Laura tells me how much she misses the children at school, but that she just was unable to keep up like she used to. "I'm ready to start taking tropical vacations with her husband and spend time with her six grandchildren!" she exclaims. My patient knows she's in the office of an oncologist and is definitely expecting the worst. I let her know her breathing is a little irregular and that we will have to get an ultrasound. She seems concerned but hopeful.
Two days later, when the ultrasound results indicate a malignant formation on Laura's left lung, she asks me what we can do. I inform her immediately that cancer isn't something anyone should try to battle alone and that she should rely on family for help. I stress the fact that psychological support is 50% of the battle. I gently let her know that pleural mesotheliomas have a poor prognosis- about a year- but that there are several options. I try to make Laura as informed as possible, both verbally, but also on paper, because I understand news like this doesn't make it easy to remember things. First of all, I explain to her how cancer works, keeping in mind that she might be unfamiliar with some of these scientific concepts. I proceed to tell her about the standard and non-standard therapies.
I explain to Laura that standard medical care for mesothelioma includes surgery and chemotherapy, potentially as well as various other drugs, but because of the placement of her tumor near the spine, surgery is dangerous and because of the poor mesothelioma prognosis, chemotherapy would decrease her quality of life without significantly prolonging it. "Well what's the point in trying to be 'standard' if none of that will work for me," she asks. I proceed with the alternative therapies.
I inform her first and foremost that these next few options are not FDA approved, but have still proven effective in some cases. Laura asks, "Why do people try these if they aren't approved.., It seems like I don't have any chance of fighting this thing either way." I quickly tell her not to give up so quickly and I explain that many people, including a patient, James Rhio O'Connor, who practiced these non-traditional methods and actually lived more than six years past his prognosis. I teach Laura about complementary methods that are used with the standard ones, such as acupuncture or acupressure and about alternative medicine, which has been used instead of standard medicine and has been heavily based on mind-body medicine. Laura asks me to elaborate
and I tell her that there are several, though not many, clinical trials testing these methods, including music therapy, fish oil, pomegranate, tangerine, and yoga.
"Well, what do you think I should do," Laura inquires. I tell her that she should chose what she is most comfortable with because she is the one undergoing the treatment and coping with the disease. I continue that though there have been more studies conducted for standard medicine therapies, there have also been success stories with traditional medicinal and folk medicine. "Laura, I will give you all the information necessary so we can make a treatment plan together along with your primary care doctor and family," I express.
We continue our discussion. When Laura asks why there is a lack of research for alternative therapies I tell her that there is a lack of funding, time, and institutions who are willing to conduct this work. She asks me if it has to do with money. "Doesn't it usually," I reply. I mention to her how it costs nearly $400 million to bring a new cancer drug to the market, whereas natural medicine is difficult to patent and therefore tough to make money from. Laura disapprovingly shakes her head and tells me "I want to do it the natural way. Humans were able to be healthy long before pharmaceutical companies were invented and I want to try that, but I have a feeling my insurance will frown on that." I tell her that insurance companies are actually starting to accept more of these non-standard cancer treatment methods, but that it is certainly something that could be improved in our healthcare system. I go to my computer and print out for Laura a few articles from scientific journals that stress the importance of nutrition in the diet.
The next day, she comes in with her primary care physician and husband and the four of us sit down together and go through her treatment plan. "I'm actually feeling quite hopeful about this," she says with a slight smile. I think to myself what an amazing attitude this woman has had. We all agree that she will maintain a mostly vegetarian diet that will be supplemented with vitamins, minerals, essential amino acids, fatty acids, and enzymes, which her PCP and I had found in our research the prior evening. After answering Laura and Mr. Hill's questions, I stand up to open the door for them. Laura hugs me and confidently says, "You say months… I say years."
About
Elena Corina Andriescu
I am very excited to graduate from the University of Pittsburgh and start an inspiring career in medicine! My goal is to ultimately practice medicine in a predominantly African American residentially segregated area. These neighborhoods are often plagued by old housing that contains asbestos, so garnering a comprehention of mesothelioma and its potential medical cares is crucial for me. I thank Mesotheliomahelp.org for this opportunity and I look forward to continuing my education about cancer for a lifetime to come.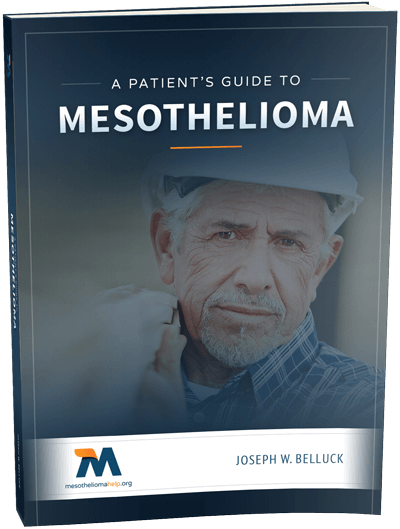 Free Mesothelioma Patient & Treatment Guide
We'd like to offer you our in-depth guide, "A Patient's Guide to Mesothelioma," absolutely free of charge.
It contains a wealth of information and resources to help you better understand the condition, choose (and afford) appropriate treatment, and exercise your legal right to compensation.
Download Now