Extended Stay America Offers Free Rooms to Mesothelioma Patients Undergoing Treatment
Many people diagnosed with mesothelioma choose to travel to larger cities where mesothelioma specialists are available to offer the latest treatments. The cost for this can be prohibitive, however, for some. Thanks to support from the American Cancer Society and Extended Stay America, patients and their families undergoing cancer treatment now have a place to stay for free.
In an Oct. 21 press release, the American Cancer Society announced that Extended Stay America will "provide 10,000 free nights and 10,000 discounted nights in its hotels to cancer patients who must travel to another city to receive treatment." Beginning November 1, the rooms will be available in Atlanta, Boston, and Houston, and will be rolled out to other cities in early 2014. The 10,000 rooms at a discounted rate of $12 per night will be offered at 684 locations in the US.
"With cancer impacting everyone's life in some way, we're proud to partner with the American Cancer Society to provide the key to hope for patients battling cancer so they can focus on their fight," said Jim Donald, chief executive officer at Extended Stay America.
Mesothelioma is a rare, incurable disease, not often seen by many oncologists. For optimal treatment, patients are encouraged to receive care from a mesothelioma specialist. A physician who specializes in treating mesothelioma patients has first-hand experience in treatment and diagnosis, as well as information on clinical trials and current studies in the field. More often than not, that specialist is in another city.
Boston and Houston both offer renowned mesothelioma centers. The University of Texas MD Anderson Cancer Center of Houston, which "cares for more patients with mesothelioma than almost any other center in the United States," houses the Mesothelioma Program. The Program has over 30 experts representing the areas of thoracic surgery, thoracic medical oncology, radiation, pulmonary, and pathology – all with an expertise dedicated and focused on mesothelioma. Anne Tsao, M.D., associate professor in MD Anderson's Department of Thoracic/Head and Neck Medical Oncology and director of its Mesothelioma Program is one of the leading authorities of mesothelioma in the United States.
Dr. David Sugarbaker, Chief, Division of Thoracic Surgery, founder and Director of the International Mesothelioma Program, Brigham and Women's Hospital in Boston, is one of the world's leading authorities on treating mesothelioma. Dr. Sugarbaker founded the International Mesothelioma Program at Brigham and has dedicated his career to treating malignant pleural mesothelioma and to improving mesothelioma patients' survival rates.
The American Cancer Society already runs and manages the Hope Lodge that "offers cancer patients and their caregivers a free place to stay when their best hope for effective treatment may be in another city," according to the ACS website. There are 31 Hope Lodge locations throughout the United States, including New York and 22 other states.
Jennifer Gelsickwrote a glowing review of the Hope Lodge in New York City where her father, Don Smitley, and her mother were able to stay during Smitley's treatment for mesothelioma. Smitley traveled from Pennsylvania to NYC to receive treatment from Dr. Harvey Pass of NYU Langone Medical Center and Dr. Lee Krug of Memorial-Sloan Kettering Cancer Center.
"My family has benefitted greatly from the services offered by the Hope Lodge," said Ms. Gelsick. "God bless all those involved in the Hope Lodge program, and thank you on behalf of all families and patients you've encountered!"
For more information about the Hope Lodge or Extended Stay America programs, call the American Cancer Society at 1-800-227-2345 or visit them on-line.
http://www.cancer.org/treatment/supportprogramsservices/hopelodge/index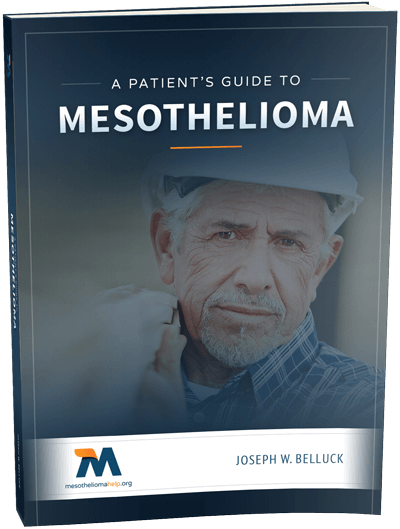 Free Mesothelioma Patient & Treatment Guide
We'd like to offer you our in-depth guide, "A Patient's Guide to Mesothelioma," absolutely free of charge.
It contains a wealth of information and resources to help you better understand the condition, choose (and afford) appropriate treatment, and exercise your legal right to compensation.
Download Now