Hospice Care Goes Beyond The Mesothelioma Patient
I have written several times about the benefits of hospice for mesothelioma patients and their families. However, it wasn't until December that I found out first hand just how vital a hospice organization can be when the end of life draws near. My mother-in-law reached out to hospice as my father-in-law became debilitated with pancreatic cancer, and we found that hospice care extends beyond the patient.
Just as with my father-in-law, when a mesothelioma patient no longer responds to a prescribed treatment plan, and the primary caregiver needs support caring for their loved one, turning to a hospice program is one option to explore. One critical point to note is that hospice is not just for the patient – the support is for the entire family.
Mesothelioma is a terminal cancer that may not develop for decades after initial exposure to asbestos. However, once symptoms become apparent, mesothelioma may rapidly progress to cause life-threatening complications. Once a hospice nurse is with the patient, he will be carefully monitored and kept as comfortable as possible while managing the symptoms the mesothelioma patient is experiencing. The caregiver will also feel comforted knowing a care team is by the phone for them 24/7.
Hospice is not a "place" rather it is a concept of care. According to the Hospice Foundation of America, hospice is designed to improve the quality of a patient's last days by offering comfort and dignity. In addition, hospice care neither prolongs life nor hastens death. However, it does allow for patients to remain in their own home surrounded by their loved ones.
As soon as hospice is in place, a personalized plan is established and a team of professionals including nurses, chaplains, nursing assistants, social workers and bereavement counselors will be assigned. And they do not waste any time becoming part of your family and ensuring everyone's needs are addressed. Of course, the patient is first and foremost and the care team will provide care for symptoms such as pain, nausea, vomiting, shortness of breath and restlessness; medication management; and personal care including bathing and light housekeeping. They may also provide a hospital bed and any other items needed for comfort and medical support.
The team offers a partnership in caring for your loved one. Not only do they provide the medical support needed, but they also help the caregiver by providing a thorough explanation of what is going on and what to expect, a friendly person to talk to, and they will sit with the patient so the caregiver can go out for groceries, lunch or to run other errands that get ignored while providing 24-hour care. The hospice also offers chaplain services and spiritual care.
The National Hospice and Palliative Care Organization estimates that there are over 5,500 hospice programs in the United States caring for nearly 1.5 million patients each year. Sixty-six percent of the hospice care is provided in the patient's home, family member's home or in nursing homes. The median length of time for hospice care is less than 19 days.
Hospice care doesn't end when the patient passes away. The hospice team will help with contacting appropriate parties, arranging funeral services, and conducting the service if requested. Although no one wants to think of the end of life, the multi-disciplinary hospice team can help ease the burden and help you in the difficult transition.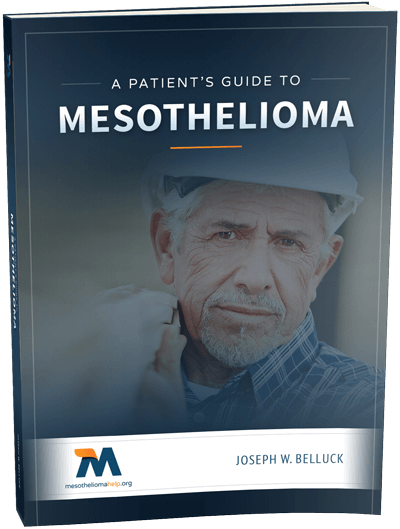 Free Mesothelioma Patient & Treatment Guide
We'd like to offer you our in-depth guide, "A Patient's Guide to Mesothelioma," absolutely free of charge.
It contains a wealth of information and resources to help you better understand the condition, choose (and afford) appropriate treatment, and exercise your legal right to compensation.
Download Now