Mesothelioma Patients Leave Lasting Gifts For Loved Ones Left in the Wake of the Disease
Facing death is probably is one of the most difficult issues that we have to deal with as humans. For some, there is warning and time to plan, for others though, death comes unexpectedly. The courage of people to think of others as they face their own mortality is something that is awe-inspiring.
As nurses we hear many stories and perspectives. Two women recently have done unselfish, thoughtful, amazing things for their husbands to help deal with their deaths when it happens.
Mrs. A is in her late 50's, has been married for many years, has adult children, and is very social. She also has advanced, recurrent cancer and does not know how much time she has left. She has always been in charge of her and her husband's social life. She was worried he might become reclusive when she dies. So she set up a social club for him and five other men who are friends and part of their social group. Now, the men meet once a week, socialize, watch a game, have a drink, and support each other. At first her husband was reluctant, but now calls them "his play dates." The other men in the group also enjoy their "playdates" and rarely do any of them miss a week. Mrs. A now has peace of mind that her husband will have support when she dies; whenever that might be.
Mrs. B is in her mid 60's, she has been married for a number of years. She and her husband are both professionals with busy careers. She has metastatic cancer and is facing her death. They have welcomed a kitten into their home. Mrs. B. feels that will help make her absence a little less lonely for her husband. A kitten will not replace her, of course, but it can represent life and love and responsibility. Sometimes knowing our loved one will not be alone is comforting to the dying person.
In the face of their own mortality, both women have found comfort in thinking of their husbands.  Both show courage and compassion.
Many people diagnosed with malignant mesothelioma are like these two women. I have seen many people more concerned about the effects of their diagnosis on their families, and how they would cope when they die, than on themselves and what they are going through.
Facing death takes courage. Reach out, talk about your fears, anxiety, or whatever is concerning you. We all know death is uncertain, but providing our loved ones with tangible support may help the dying, and provide some relief in the future for their loved ones.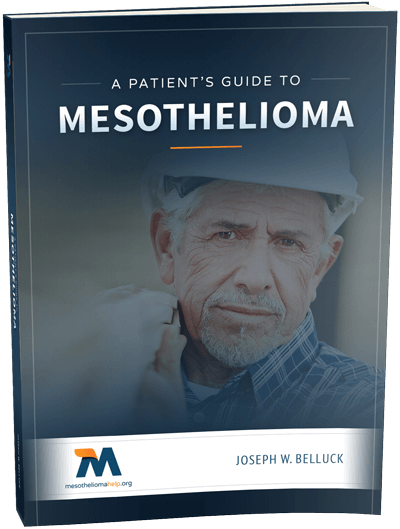 Free Mesothelioma Patient & Treatment Guide
We'd like to offer you our in-depth guide, "A Patient's Guide to Mesothelioma," absolutely free of charge.
It contains a wealth of information and resources to help you better understand the condition, choose (and afford) appropriate treatment, and exercise your legal right to compensation.
Download Now