Elevated Rate of Lung Cancer Among Carolina Textile Workers Exposed to Asbestos, Study Says
Researchers report that textile workers in North Carolina and South Carolina who were exposed to asbestos had significantly increased incidence of lung cancer. Asbestos, a mineral fiber used in thousands of products from building materials to textiles, is associated with serious respiratory diseases including asbestosis, a scarring of the lung, lung cancer and mesothelioma, a cancer of the lining of the lung and abdomen.
In the new study published in January issue of the journal Occupational and Environmental Medicine, researchers tracked the status of more than  6,100 textile workers who had been employed at four Carolina textile mills that previously used asbestos in manufacturing. From the 1950s through the early 1970s, textile plants converted chrysotile asbestos, typically imported from Canada, and cotton fibers into yarn and woven materials. That created an occupational hazard of asbestos exposure for unsuspecting textile workers, who typically did not wear any breathing protection.
The researchers, based at the University of Nebraska, Duke University and the University of North Carolina, reported a significantly elevated rate of death from lung cancer among the textile workers as compared to the general population. They determined that 3,356 of the textile workers employed in the mills had died as of 2003, and a disproportionate number had died of lung cancer, according to death certificate data.
The researchers also found a strong correlation between the increased mortality rate of lung cancer and the workers' cumulative occupational exposure to asbestos. The cumulative exposure to asbestos varied considerably among the four plants. Exposure to asbestos usually occurs by breathing air in workplaces contaminated with microscopic asbestos fibers or swallowing asbestos fibers. Typically, workers do not experience symptoms of mesothelioma or other asbestos disease  for 20 years to 40 years after exposure to asbestos.
Another study published last year in the journal Lung Cancer found that textile workers in China who were exposed to asbestos had an increased risk of dying of lung cancer, mesothelioma and all forms of cancer. The trend was most pronounced among textile workers who had a high exposure to asbestos and also were smokers.
For more information about mesothelioma click here.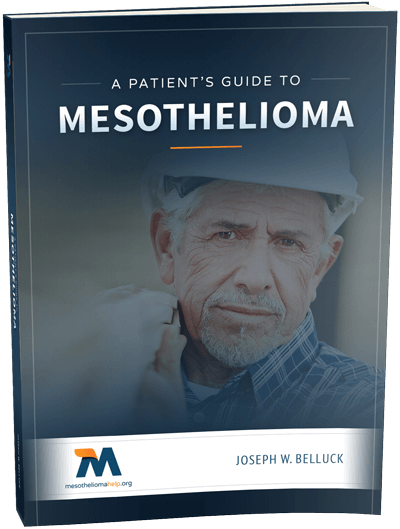 Free Mesothelioma Patient & Treatment Guide
We'd like to offer you our in-depth guide, "A Patient's Guide to Mesothelioma," absolutely free of charge.
It contains a wealth of information and resources to help you better understand the condition, choose (and afford) appropriate treatment, and exercise your legal right to compensation.
Download Now