EWG Analysis: Asbestos Kills 12,000-15,000 Americans per Year
A new analysis by the Environmental Working Group (EWG) finds that asbestos kills significantly more Americans each year than previously estimated—and the actual asbestos death toll may be much higher.
Using data from the Centers for Disease Control and Prevention (CDC) database, EWG calculated that from 1993 to 2013, 189,000 to 221,000 people (12,000 to 15,000 per year) died from mesothelioma, lung cancer, and asbestosis in the United States.
EWG says that public records of U.S. asbestos-related deaths are imprecise, however, and that their estimate is conservative.
"As shocking as these figures are, they may be too low," said epidemiologist and former assistant Surgeon General Dr. Richard Lemen in a press release from EWG Action Fund.
http://www.prweb.com/recentnews
"The report did not estimate deaths from the other-asbestos-related diseases. Furthermore, some studies suggest even higher lung cancer rates in asbestos-exposed workers," said Lemen.
According to EWG, 39,870 American died from mesothelioma, an incurable cancer caused exclusively by asbestos exposure, from 1999 to 2013. Over the same period, EWG estimates that 20,317 Americans died from asbestosis, a type of lung scarring caused by asbestos fibers, while as many as 159,480 died from asbestos-related lung cancer.
In addition to deaths from these causes, it is believed that asbestos exposure can also cause cancers of the larynx, pharynx, stomach, colon, ovaries, and rectum. An older study by EWG that includes asbestos-related gastrointestinal cancer puts the number of annual U.S. asbestos deaths at around 10,000.
U.S. asbestos use peaked in the 1970s and the carcinogenic mineral fiber is no longer mined in this country, but it continues to be imported and used in a wide range of products. An EWG analysis of U.S. port records indicates that at least 8 million pounds of raw asbestos have arrived here since 2006.
EWG's figures indicate that there was no apparent decline in asbestos deaths from 1999 to 2013. There were 2,481 mesothelioma deaths in 1999 compared to 2,686 in 2013 and a high of 2,874 in 2012. Asbestosis deaths were virtually identical in 1999 and 2013 (1,258 vs. 1,229). Both EWG's lower and higher estimate of lung cancer deaths show increases from 1999 to 2013.
This can be attributed to the long latency period of many asbestos diseases. Mesothelioma, for example, can take 15-50 years or more to develop from the time of initial asbestos exposure.
Given the lag between asbestos exposure and disease onset, asbestos disease rates will likely remain high for years to come. One expert estimates that within the next three decades 300,000 Americans will die from asbestos.
"The only way to see the numbers of asbestos-related fatalities significantly decline among Americans is for our elected leaders to adopt an outright ban on the deadly substance," said Sonya Lunder, author of the EWG report, "Asbestos kills 12,000-15,000 people per year in the U.S."
http://www.asbestosnation.org/facts/asbestos-kills-12000-15000-people-per-year-in-the-u-s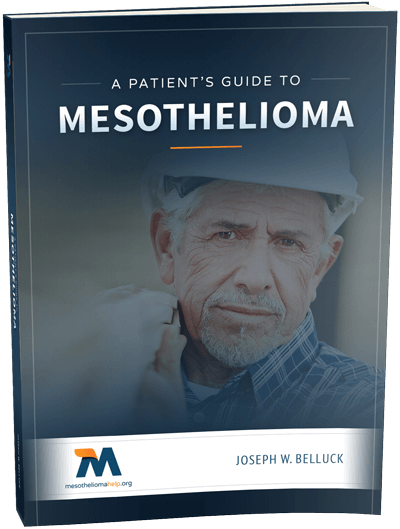 Free Mesothelioma Patient & Treatment Guide
We'd like to offer you our in-depth guide, "A Patient's Guide to Mesothelioma," absolutely free of charge.
It contains a wealth of information and resources to help you better understand the condition, choose (and afford) appropriate treatment, and exercise your legal right to compensation.
Download Now