Family Members Want to Care for Their Loved Ones with Mesothelioma
For many different reasons, sometimes it's hard to ask for help.  You don't know who to ask, you don't want to impose, you're embarrassed, or you don't want to admit that you need the assistance.  These can ring true for anyone, but I've found it to be quite prevalent in the mesothelioma community.
This group is made up of warriors!  It's a group of strong, resilient, and let's face it… sometimes stubborn (and that's not a bad thing!) people who are steadfast in their fight.  They don't want to make others feel as though they are putting them out, or be what they think is a burden on their loved ones.  I am here to tell you, that no caregiver feels that way.
We are caregivers because we care and want to give anything we can to those we love.  We are honored to support you in any way that you need.  I know that there were times where my father hated asking me for things; I'm an adult, I lived three hours away, and I had "my own life."  Just because I am married with a business and a family doesn't mean that he wasn't still very much a part of that life.  Things were added, but in no way was he subtracted.
I was so blessed to be there for my Dad during his surgery and recovery.  I was able to be there to help during the clinical trial and visit multiple times during his radiation therapy when he was in NYC for weeks.  I am blessed to have a life that allowed me to travel to be with my parents and make frequent trips back to my hometown.  Dad also visited me at my home, and my husband and I loved doting on him, making him the king of the castle!
So, as Dad would say, "the moral of the story" is to never be afraid to ask your loved ones for help.  Don't push them away when all they want is to be pulled closer.  You are loved by many, and those people are just waiting for a chance to help.  God bless all caregivers and the ones they care for… in any capacity!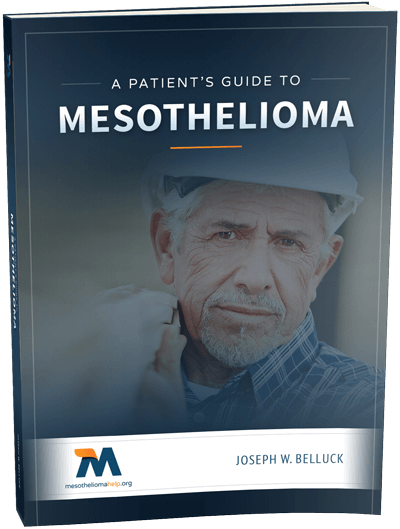 Free Mesothelioma Patient & Treatment Guide
We'd like to offer you our in-depth guide, "A Patient's Guide to Mesothelioma," absolutely free of charge.
It contains a wealth of information and resources to help you better understand the condition, choose (and afford) appropriate treatment, and exercise your legal right to compensation.
Download Now