Family of Mesothelioma Patient Faces Tough Decisions
This week we continue to follow a woman who is recovering from surgery after being diagnosed with mesothelioma. She has been struggling more than expected, and the family is trying to come to terms with the extended care needed to get their loved one back on her feet. The patient is critically ill and has many medical issues that need to be managed, and her family members are feeling lost.
They remember being told something about their loved one facing potential complications from surgery, but nothing could have prepared them for all this. Serious infections, respiratory issues, and most upsetting to them, the patient is very depressed and has lost all hope. Everything is a major effort- from acknowledging her family to asking for water- and it is painful for them to watch.
When things do not go as we expect and medical decisions need to be made, the most important thing a family member can do is to listen and to keep in mind what the patient told you in the past. What are their wishes? Those difficult "what if" and "I never want xxx care" conversations are all running through your mind. It is vital at this point in your loved one's illness, that you remember their wishes and keep the lines of communication open with your healthcare team.
Now, it is excruciating to watch their family member struggle to talk and to perform the most basic human functions and they can't believe that she will ever get better. The truth is while some patients do recover, some may not. Recovery goals are set each day in the ICU, and measuring the patient's progress against them is one way to assess how the patient is progressing.
In our patient's case, after two family meetings involving the health care team, some decisions are made. After much discussion and listening and praying the family has decided to keep going with treatment and to re-evaluate in one week. Now, the family is praying for improvements in their loved one.
Although to let you realize how grave the situation is, the decision has been made not to perform CPR if her heart stops. From the medical standpoint the treatment and care is aggressive, and the medical team likes to know they have exhausted all options. From the family's perspective, they would like to see their loved one comfortable and at rest.
Next week we will offer an update as we continue to follow this patient.
If you have questions about your mesothelioma treatment or any aspect of your mesothelioma care, please contact us.
Know more about Mesothelioma and how you can deal with it.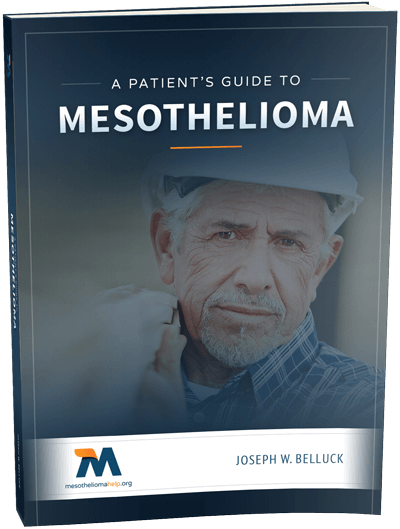 Free Mesothelioma Patient & Treatment Guide
We'd like to offer you our in-depth guide, "A Patient's Guide to Mesothelioma," absolutely free of charge.
It contains a wealth of information and resources to help you better understand the condition, choose (and afford) appropriate treatment, and exercise your legal right to compensation.
Download Now