Fun Times at the Shore Helped Me and Dad Forget About Mesothelioma
For the most part, summer is the happiest time of year for my family. I sometimes wonder why we stayed in the Northeast, when my whole family loves warm, sunny weather. As you might remember, I am a teacher and I have a wonderful opportunity to move down to the Jersey shore in the summertime. My family grew up going to Cape May and Wildwood each year for family vacation, sometimes several times in one summer. So, by renting a shore house I make it very convenient for my family to come visit me.
This past summer while Dad was resting and allowing his body to become stronger, he took a trip to visit me at the shore. Since my mom and brothers have a hard time getting off work, he made the trip solo. I think that this may have been the only time ever that just my dad and I were able to spend a few days together doing things we enjoy. Father/daughter bonding week it was!
I had planned a few nice dinners at great restaurants that we went to when I was a little girl on our summer vacations, and we were able to reminisce about "the good ole days." One place that we both love is The Lobster House in Cape May, NJ. I would guess that almost every summer on vacation we ate at this place. Amazing fresh seafood and the best clam chowder! While eating dinner, I could see that my father did not have the appetite that he used to have and we had a lot of leftovers for the next day's lunch.
The following day I took him to the pool to relax on lounge chairs and do some reading. We relaxed all day and at one point we took a walk down to the ocean, which was next to the pool. It was slow going since walking on the sand was a workout for Dad. We had to stop multiple times for him to catch his breath, but he made it down to take a dip in the ocean. He even dove into a wave, which he has always enjoyed very much. We also were able to take some funny pictures of him showing off his "strength."
We will both cherish this father/daughter vacation week forever. It was so nice to get him away from his normalcy at home to the beach and to enjoy the things he used to do on summer vacations. I even made comments about how it was easier for him to breathe in the air down the shore. I'm not sure why that would be, but maybe it was just because he was happy and away from all the normal daily stresses he has. Time to get away and forget about how much his life had changed in the last few years was well needed.
I recommend taking short trips, if at all possible, when your loved one is feeling up to it. It is always nice to escape for a short time and to forget about mesothelioma and how you and your loved one's lives have changed because of cancer. Vacations or short get-away weekends give everyone a short relief to enjoy life and to see the beauties of the world.
After fun at the beach, Dad headed back to Penn Medicine to start his immunotherapy treatments. Find out more about his clinical trial next week.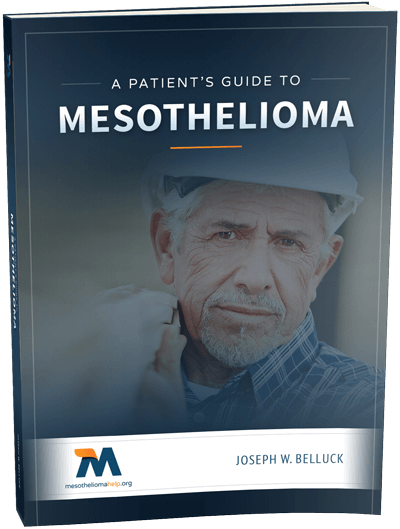 Free Mesothelioma Patient & Treatment Guide
We'd like to offer you our in-depth guide, "A Patient's Guide to Mesothelioma," absolutely free of charge.
It contains a wealth of information and resources to help you better understand the condition, choose (and afford) appropriate treatment, and exercise your legal right to compensation.
Download Now