Hawaii Researchers' Efforts to Crack Mesothelioma Code Aided by $3.5m Gift
Michele Carbone, director of the University of Hawaii Cancer Center and his colleagues, have made a series of recent scientific breakthroughs in understanding the mechanism by which asbestos triggers mesothelioma, an aggressive cancer of the lining of the lung and abdomen.
In recognition of that groundbreaking research, an anonymous donor has given the University of Hawaii Cancer Center a $3.58 million gift to support mesothelioma research, the university announced this month. The gift is the second largest in UH Cancer Center history.
"Mesothelioma is a serious public health problem," said Virginia Hinshaw, chancellor of the University of Hawaii Manoa. "We're proud that Dr. Carbone's team is leading the world in this area of discovery. This gift validates their efforts and will help them remain at the forefront of thoracic oncology research."
Closely associated with inhaling airborne asbestos fibers, mesothelioma produces an aggressive type of tumor. The current median survival from diagnosis is just 12 months, creating a need for more effective therapies to extend mesothelioma patients' lives. Approximately 2,500 to 3,000 people in the U.S. are diagnosed with mesothelioma each year. Most were exposed to asbestos decades before cancer symptoms appeared.
Dr. Carbone and colleagues including Assistant Professor Haining Yang and Adjunct Professor Giovanni Gaudino have studied asbestos-related disease for more than a decade, analyzing how genetics, environmental carcinogens and viral infection interact to cause malignant mesothelioma.
In an article in the Proceedings of the National Academy of Sciences, Carbone and colleagues described how asbestos killed cells through a process called programmed cell necrosis that leads to the release of a protein molecule HMGB1. People exposed to asbestos have elevated levels of the protein in their blood. The protein begins an inflammatory chain reaction in tissue that causes the release of mutagens that promote tumor growth. Cancer often occurs in the presence of chronic inflammation. By interfering with the inflammatory reaction, it may be possible to decrease the occurrence of mesothelioma.
Many of the UH researchers' findings have been based on work conducted in the villages of Capadoccia, a region of Turkey that has an extraordinarily high rate of mesothelioma deaths. Nearly 50 percent of the region's residents develop and die of mesothelioma from exposure to eronite, a naturally occurring mineral fiber found in rock formations that is even more toxic than asbestos. Eronite has been used in the U.S. in road paving.
Drs. Carbone and Yang plan to conduct a clinical trial co-sponosored by the U.S. National Cancer Institute in Cappadocia to validate the serum biomarkers they discovered for the early detection of mesothelioma.
Their findings may have applications far beyond the villages of Turkey and lead to new ways to prevent and treat the disease. In the future, treatment approaches aimed at identifying people who are likely to develop mesothelioma based on elevated biomarkers and blocking chronic inflammation could reduce the risk of mesothelioma among workers exposed to asbestos.
"This generous gift is critical to support our efforts to generate discoveries that will aid in the prevention of mesothelioma and the development of new therapies," Dr. Carbone said in a statement.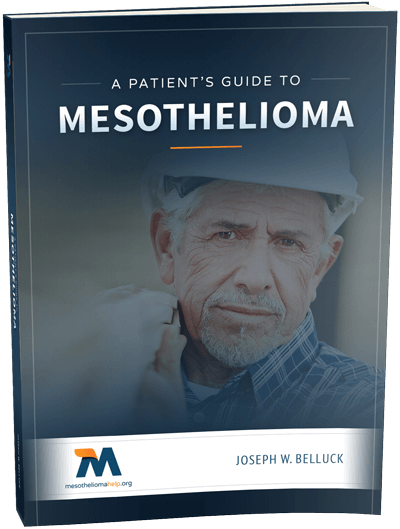 Free Mesothelioma Patient & Treatment Guide
We'd like to offer you our in-depth guide, "A Patient's Guide to Mesothelioma," absolutely free of charge.
It contains a wealth of information and resources to help you better understand the condition, choose (and afford) appropriate treatment, and exercise your legal right to compensation.
Download Now