H. Lee Moffitt Cancer Center & Research Institute
Background
H. Lee Moffitt Cancer Center & Research Institute was founded in 1978 by the Florida State Representative for whom the institution is named. Colloquially known as the Moffitt Cancer Center, its design is both academic and patient-oriented in an effort to bring research discoveries directly to the bedside.
The Moffitt Cancer Center is a 206-bed facility, employs over 4,200 people, and has more than 2 million square feet devoted to translational research and patient care. Over 82 million dollars of research funding is awarded each year to the institute. Due to the Moffitt Cancer Center's dedication to patient care, innovative therapy, physicians, research, education, training, and facilities, the National Cancer Institute has designated the institute as a nationally certified Comprehensive Cancer Center.
The Moffitt Cancer Center's commitment to cutting edge research and patient-centered therapies continues to support its ranking and accolades in the US News and World Report as one of the top 3% of cancer care hospitals in the US.
Cancer Treatments
The integrated research environment at the Moffitt Cancer Center provides collaboration of laboratory scientists and physicians within clinical, translational, and prevention research studies. Several specific, innovative treatments are being researched in addition to the comprehensive cancer treatments listed below.
Radiation oncology, surgical oncology, clinical trials, chemotherapy, palliative care, state of the art diagnostics and imaging services, genetic counseling, pathology, hormone therapy, biological therapy, complementary and alternative medicine, nutrition and physical therapy, and comprehensive and preventive care are all options in the Moffitt Cancer Center's cancer treatment program.
H. Lee Moffitt Cancer Center & Research Institute specializes in treating mesothelioma and has established the Mesothelioma Research and Treatment Center, a specialized program of the Department of Thoracic Oncology. The center emphasizes clinical research to develop new treatment options for mesothelioma patients such as immunotherapy and therapeutic vaccines.  Physicians with expertise in treating malignant pleural mesothelioma are a part of the treatment team.
Mesothelioma specialists at H. Lee Moffitt Cancer Center & Research Institute include Dr. Lary Robinson, the Director of the Division of Cardiovascular and Thoracic Surgery, who has expertise in evaluating and treating all stages of mesothelioma.   One of the focuses of his research includes developing aggressive surgical treatments of mesothelioma.
Source: https://moffitt.org/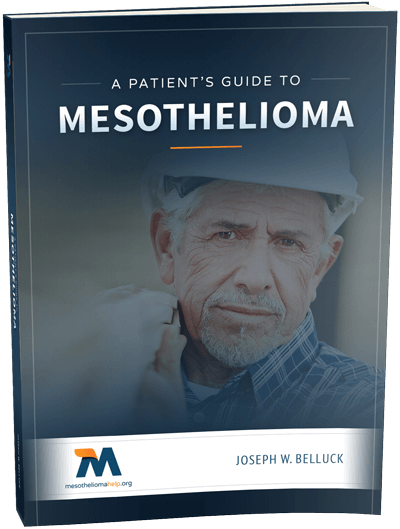 Free Mesothelioma Patient & Treatment Guide
We'd like to offer you our in-depth guide, "A Patient's Guide to Mesothelioma," absolutely free of charge.
It contains a wealth of information and resources to help you better understand the condition, choose (and afford) appropriate treatment, and exercise your legal right to compensation.
Download Now