Sidney Kimmel Comprehensive Cancer Center
Background
In 1973, Johns Hopkins University opened the Sidney Kimmel Comprehensive Cancer Center. Since that time, this center has worked to find new ways to look at cancer and treat the disease.
Considered a Comprehensive Cancer Center by the National Cancer Institute (NCI), the Kimmel Cancer Center has distinguished itself in clinical research, laboratory research, community outreach and prevention, among other accomplishments. Additionally, it is the only Comprehensive Cancer Center in Maryland.
Cancer Treatments
The Sidney Kimmel Comprehensive Cancer Center provides family and patient services and specialty programs for both adults and children. Patients with any type of cancer can receive treatment at this facility. Furthermore, individuals at high risk for breast, ovarian, colon and other types of cancers may get early detection information and genetic counseling from this program.
In addition to treatments, the Cancer Center provides counseling for survivors and access to other facilities for patients and their families who are from out-of-town.
Research at the Kimmel Cancer Center has helped define this disease over the decades. Discoveries include the first genetic tests for hereditary cancers and a stool test to screen for colon cancer. Researchers at this facility helped develop therapeutic cancer vaccines that have helped many patients stricken with various forms of this illness.
The Kimmel Cancer Center employs lung cancer specialists who can diagnose and treat mesothelioma with the use of surgery, radiation, chemotherapy or a combination of all three approaches.
Mesothelioma specialists at the hospital include Dr. Stephen C. Yang, an Associate Professor of Surgery & Oncology at Johns Hopkins University School of Medicine. He is the Surgical Director of the Lung Transplantation Program, the Surgical Director of the Thoracic Oncology Program, and the Chief of the Division of Thoracic Surgery.  His research includes investigating the molecular biology of mesothelioma and developing methods to early diagnose recurrent lung cancer.  In his clinical work, his focus includes peritoneal mesothelioma and pericardial mesothelioma.
Diagnosed with mesothelioma? you need to seek help from a qualified medical professional or health care facility that specializes in treating this complicated cancer. Check out our database of Mesothelioma Doctors & Hospitals.
Source: https://www.hopkinsmedicine.org/kimmel_cancer_center/index.html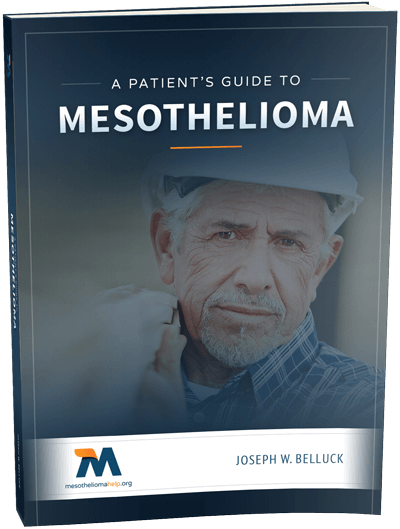 Free Mesothelioma Patient & Treatment Guide
We'd like to offer you our in-depth guide, "A Patient's Guide to Mesothelioma," absolutely free of charge.
It contains a wealth of information and resources to help you better understand the condition, choose (and afford) appropriate treatment, and exercise your legal right to compensation.
Download Now