Imaging Tool May Guide Surgeons to Successful Removal of Mesothelioma Cells
Duke University and Massachusetts General Hospital oncologists are helping to bring a breakthrough cancer-fighting tool to surgeons. The two centers have partnered with Lumicell, Inc., in clinical trials to test the safety of an investigative tool that could help surgeons achieve total cancer resection in one attempt. For mesothelioma patients who have a very high chance of recurrence, this tool could be a life saver.
Developed by Lumicell, Inc., LUM015 combines a hand-held imaging device with an injectable agent that glows, or fluoresces, when cancer cells are detected. This gives surgeons instant feedback and guides them to remove all traces of the cancerous tumor.
According to Lumicell, the company "is addressing the number one challenge in cancer surgery – the need to remove all cancer cells within the tumor bed during the first surgery," with its LUM015 technology.
"The unprecedented ability to see and remove all cancer cells during the initial surgery has the potential to significantly improve surgical outcomes and reduce healthcare costs by eliminating the need for repeat surgeries," reports Lumicell.
Mesothelioma, an unusual form of cancer caused by exposure to airborne asbestos fibers, often has a complex growth pattern making complete surgical removal a very difficult task. Surgeons often have to guess how much tissue to remove, then send samples to the lab for confirmation that they got it all. If cancer cells are found in the margin of the tumor, that often means recurrence is inevitable and another surgery may be required.
LUM015 is unique in that it offers real-time visuals to the surgeons to ensure clean tissue margins, indicating all cancerous cells have been removed. This helps eliminate repeat surgeries to remove any missed cancer cells and, as a result, it can halt cancer recurrence and metastasis.
"In the operating room our goal is to take out 100 percent of a patient's tumor, and the way we try to do that is to take out a margin of normal tissue around the tumor," said Brian Brigman, M.D., Ph.D., chief of orthopedic oncology at Duke, in a Feb. 2 interview with ABC11 News in Raleigh, NC. "There are parts of the tumor that are microscopic that we couldn't see even if we wanted to. What the probe does is allow us to see microscopic disease that was maybe left behind."
Although Dr. Brigman is enthusiastic about the potential use for the tool, saying, "This is groundbreaking research in the way we treat sarcomas," he admits it could still be 10 years before the tool is used on a regular basis with patients.
To the nearly 3,000 Americans who are diagnosed with mesothelioma each year, and who typically face a grim prognosis, this tool could extend their survival and improve their quality of life.
LUM015 is currently being tested on breast cancer patients. For more information on the clinical trial see ClinicalTrials.gov.
Know more about Mesothelioma and how you can deal with it.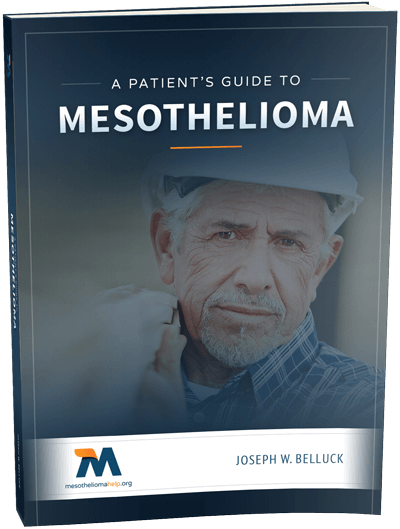 Free Mesothelioma Patient & Treatment Guide
We'd like to offer you our in-depth guide, "A Patient's Guide to Mesothelioma," absolutely free of charge.
It contains a wealth of information and resources to help you better understand the condition, choose (and afford) appropriate treatment, and exercise your legal right to compensation.
Download Now