Key Ingredient in Aspirin Could Lead to New Treatment for Mesothelioma
The cancer-fighting properties of aspirin have long been touted. In fact, a daily aspirin may help prevent cancer, according to the American Cancer Society. Now, another study offers more evidence of a positive association between aspirin's key ingredient, salicylic acid, and its cancer-fighting properties.
In what is encouraging news for mesothelioma patients, researchers report that both aspirin and diflunisal can stop inflammation and cancer. The two nonsteroidal anti-inflammatory drugs (NSAIDs) have the key ingredient salicylic acid that researchers from Gladstone Institutes, of San Francisco, report is effective in inhibiting two proteins, p300 and CREB-binding protein (CBP), preventing cellular damage caused by inflammation. The proteins, according to the researchers, control the levels of proteins that cause inflammation or are involved in cell growth.
"Salicylic acid is one of the oldest drugs on the planet, dating back to the Egyptians and the Greeks, but we're still discovering new things about it," said senior author Eric Verdin, MD, associate director of the Gladstone Institute of Virology and Immunology. "Uncovering this pathway of inflammation that salicylic acid acts upon opens up a host of new clinical possibilities for these drugs."
For people who have previously been exposed to asbestos and face a life-long risk of developing pleural mesothelioma, a cancer of the lining of the lungs, this finding brings hope that the potential for developing the disease could be minimized. Microscopic asbestos fibers when inhaled can lodge in the lungs and remain there causing inflammation that eventually leads to pleural mesothelioma. Many of the cancer treatments are ineffective against the disease, and many experts agree, that the best way to fight the cancer is through prevention.
In the study, the researchers determined that suppressing p300 with diflunisal "stopped cancer progression and shrunk the tumors in the mouse model of leukemia." The team has also conducted a trial in human hematologic cancers and determined the salicylic acid to be safe. The next step for them is to collaborate in the development of novel epigenetic therapies to find more effective treatment for leukemia patients.
In a separate study in 2015, researchers from the University of Hawaii Cancer Research Center "reported aspirin administration to individuals at high risk of developing MM [malignant mesothelioma], such as those with a history of asbestos …may prevent or delay the growth of MM, possibly increasing life expectancy and also increasing opportunities for early MM detection."
"The ability to repurpose drugs that are already FDA-approved to be part of novel therapies for cancer patients is incredibly exciting," said co-author Stephen D. Nimer, MD, director of Sylvester Comprehensive Cancer Center at the University of Miami Miller School of Medicine.
Although evidence may support aspirin use for its anti-cancer properties, doctors stop short of recommending aspirin to prevent cancer. Before starting an aspirin regimen please consult with your doctor.
In the United States, approximately 2,500 to 3,000 people are diagnosed with mesothelioma each year. The disease is incurable, though there are standard treatments to manage the disease including chemotherapy, radiation and surgery.
The study can be found in the May 31 issue of eLife.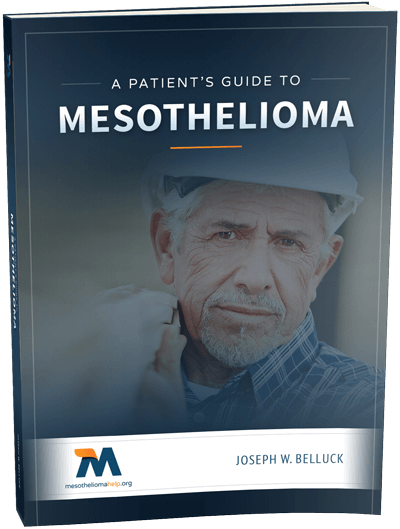 Free Mesothelioma Patient & Treatment Guide
We'd like to offer you our in-depth guide, "A Patient's Guide to Mesothelioma," absolutely free of charge.
It contains a wealth of information and resources to help you better understand the condition, choose (and afford) appropriate treatment, and exercise your legal right to compensation.
Download Now