Managing Your Emotions When Mesothelioma Puts You in the Hospital During the Holidays
When thinking about the holidays, most people picture themselves celebrating at home surrounded by family and friends. We often have very high expectations for the holidays and put a lot of stress on ourselves in order to make things perfect. A lot of people have traditions involving family, friends, and their comfortable home. When life or illness upsets these rituals it can be upsetting, leaving some people dreading the holidays that they once enjoyed.
For mesothelioma patients undergoing treatment in a distant city, it can be difficult to be away from home during the holiday season. How do mesothelioma patients and families, and anyone else who finds themselves away from home at holidays, cope?  Some of the suggestions that other patients have found useful on their own mesothelioma journey may help.
First, acknowledge your feelings:  it's okay to feel sad. Allow yourself to acknowledge that it is difficult. This illness is not something that you can plan for or control. It is a lot to deal with a serious health diagnosis and the holidays all at once.
Reach out and seek support – you do not have to be alone. Often the social worker at the hospital, or the hospitality home that you may be staying at will be aware of others in the same situation. The chaplaincy service might also have ideas on how to celebrate. Planning ahead can make it easier for you. If your loved one is in the hospital, see what is available for the patients there. Hospitals have holiday dinners to offer their guests, and sometimes friends or relatives can join in for a small celebration. If they want to stop by, let them. Even if just for a short visit. Now is not the time to turn away people that genuinely want to help or visit.
Sometimes in situations like these you meet people and form bonds that are unexpected and welcoming during the most difficult time of your life. Be open to sharing your holiday with others that might be on the same journey.
There are no easy answers. Holidays can bring a vast amount of emotions for people. Try to focus on having the best holiday possible!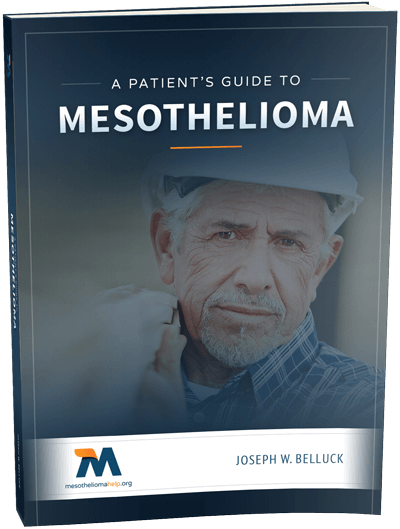 Free Mesothelioma Patient & Treatment Guide
We'd like to offer you our in-depth guide, "A Patient's Guide to Mesothelioma," absolutely free of charge.
It contains a wealth of information and resources to help you better understand the condition, choose (and afford) appropriate treatment, and exercise your legal right to compensation.
Download Now