Memorial Day: One-Third of Mesothelioma Victims are Veterans
The end of May is when we stop as a country to remember our fallen soldiers. As the nation pays tribute to those that have sacrificed their lives for our freedom, this Memorial Day has special meaning.
Memorial Day is a day to remember and honor all military service members that have died while serving our country. Our heroes that gave their lives for our freedom and our way of life will never be forgotten. Their stories need to be told and listened to. We hope that their sacrifice is remembered and honored by  a grateful nation that collectively stops and gives thanks, for their ultimate sacrifice. 
This year, for the mesothelioma community, in which one third of the victims of this deadly cancer are veterans, we reflect on the continued toll that serving our country may take on service members decades later. By exposure to a known carcinogen, asbestos, the leading cause of malignant mesothelioma in the service of our country decades earlier, this group of soldiers and their families also end up  sacrificing their lives.
Asbestos is still not banned in the United States. The knowledge that it causes deadly diseases that can kill people has been known for decades. For decades advocates have been working to get the importing of asbestos for use in products banned in the United States with no success.  This year we are closer than ever to finally realizing this common sense ban. The bill to ban asbestos is progressing slowly through the Congress but only after endless work by tireless advocates. Advocates whose family members paid with the price of their lives, a fight that they continue to fight so that you or your family member might not suffer the same preventable fate.
Why in this great country of ours are we not able to agree that what is proven that asbestos kills as does guns? There is no need for asbestos or for certain guns. Banning both will prevent needless tragedies, a great majority of Americans agree with getting that done. Why is it acceptable that senseless killing of children while at school and continued use of a known carcinogen to slowly kill is accepted?
Pray that our leaders will have the courage to come together to protect public safety by supporting a total and complete ban of asbestos and the regulation of guns. All of us deserve no less.
Memorial Day is the traditional start of summer with families getting together and barbecues.  Sometimes the meaning of this holiday can be lost. Take the time to remember those who have gone before us. Say their names, tell their stories. Hold your loved ones tight.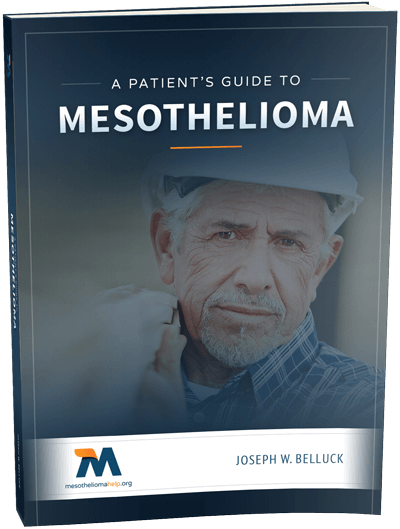 Free Mesothelioma Patient & Treatment Guide
We'd like to offer you our in-depth guide, "A Patient's Guide to Mesothelioma," absolutely free of charge.
It contains a wealth of information and resources to help you better understand the condition, choose (and afford) appropriate treatment, and exercise your legal right to compensation.
Download Now