Mesothelin May Play Multiple Roles in Spread of Mesothelioma, Other Cancers
Mesothelin is a protein found on the surface of some cells in the human body. Its biological purpose is a bit of a mystery frankly. But it occurs in overabundance in certain types of cancer cells including ovarian cancer, pancreatic cancer and mesothelioma, a cancer of the lining of the lungs and abdomen. Therefore, it's on scientists' radar screen.
Scientists are evaluating the role of mesothelin in the spread of cancer and its potential usefulness as a signal of cancer for doctors who are trying to diagnose a patient's disease such as mesothelioma, a cancer caused by asbestos exposure. There are treatments for mesothelioma, but as yet, there is no known cure. Approximately 2,500 to 3,000 people in the U.S. are diagnosed with malignant mesothelioma each year in the U.S., primarily as a result of asbestos exposure at a workplace or during military service.
In a mesothelioma researcharticle published in February 2013 in the journal Anti-Cancer Agents in Medicinal Chemistry, medical researchers at the National Cancer Institute in Bethesda, Maryland and East China Normal University in Shanghai, say that there are  three ways that mesothelin may play a role in the advance of cancer, as previous studies have suggested:
Implantation — Mesothelin may aid in the implantation of tumors in the abdominal cavity, leading to peritoneal mesothelioma;
Survival — Mesothelin may play an important role in the survival of cancer cells;
Resistance — The presence of mesothelin may cause resistance to certain chemotherapy drugs.
As a result of the key role of mesothelin, the researchers say that a drug that neutralizes the functionality of mesothelin may be helpful in cancer treatment, making chemotherapy drugs more effective, for instance. Some antibody drugs that disrupt the function of mesothelin are currently being evaluated in clinical studies.
The researchers say additional research is needed to evaluate the role of mesothelin in the growth and spread of malignant tumors, cancer cell survival and drug resistance. They conclude that studies on mesothelin biology may give opportunities for more effective antibody therapy targeting mesothelin in solid tumors.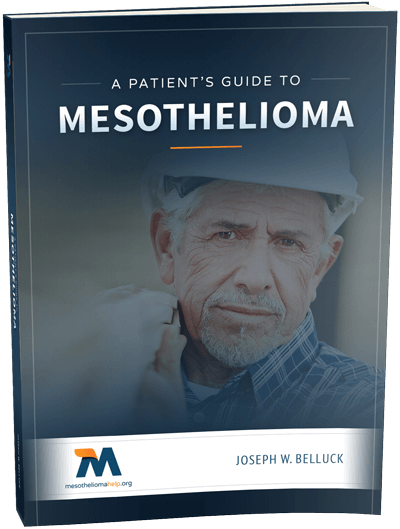 Free Mesothelioma Patient & Treatment Guide
We'd like to offer you our in-depth guide, "A Patient's Guide to Mesothelioma," absolutely free of charge.
It contains a wealth of information and resources to help you better understand the condition, choose (and afford) appropriate treatment, and exercise your legal right to compensation.
Download Now